Ian Ruhter, Nancy Mooslin, Roman Vishniac, Stephen Nguyen
---
Ian Ruhter
Photographer and alchemist Ian Ruhter travels in a truck that is also his camera. He shares his experience photographing New Mexico.
"When we're shooting out in the elements, just a little bit of wind will shake the camera. Nature creates all the beauty but it also gives us the most adversity."
---
Nancy Mooslin
Artist Nancy Mooslin has systematically translated musical pieces into paintings and sculptures, creating a unique emotional experience.
"I developed a way to translate pitch, musical pitch, into color."
---
Roman Vishniac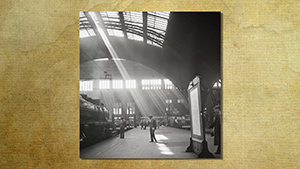 One of the 20th century's most accomplished photographers, Roman Vishniac captures Germany's changing political reality through a modernist lens.
"It's an incredible documentation of how quickly things changed."
---
Stephen Nguyen
New York-based installation artists Stephen Nguyen and Wade Kavanaugh work to recreate the dense mangroves and plant life they discovered on a trip to the Florida Everglades.
"By exposing ourselves to a different landscape, we're trying to extend the language of our work."