Ed Haddaway, Tim Mountz, Allen Bellman, The Grand Jeté
Airs Friday May 30, at 9:00 pm on Ch. 5.1
---
Ed Haddaway
Albuquerque sculptor Ed Haddaway pursues the irrational, the unconscious, and the intangible.
"I'm always aware that my audience, or any audience, is doing half the work. It's not just the author, it's the person that's receiving it and what are they doing with it."
---
Tim Mountz
The art of farming…explore the history of heirloom seeds through the eyes of farmer Tim Mountz.
"It's like anthropology. You're finding your ancestry and this beautiful history of food and culture and how it intertwines over time."
---
Allen Bellman
Allen Bellman, who drew Captain America, talks about how to get the audience involved in the story.
"Doing a comic book, or any kind of comic strip, it's doing a movie. You have your long shot, your close up, your bird's eye view, your worm's eye view, you have to change each panel so you keep the interest of the reader."
---
The Grand Jeté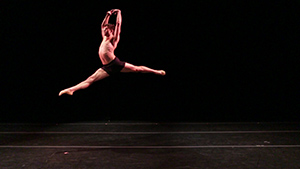 Experts share the nuance of musculature and balance behind the most spectacular leap in ballet – the grand jeté.
"You have to develop that vertical power, but at the same time translate your center of mass horizontally."