Albuquerque's Art Community, The Irish Arts Center
Airs Friday March 28, at 9:00 pm on Ch. 5.1
---
Albuquerque's Art Community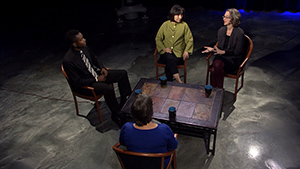 Leaders in Albuquerque's art community discuss how to keep the arts a vital part of our lives.
Interviewed:
Sherri Brueggemann: Manager, Public Art UETF or (Public Art Urban Enhancement Program)
Regina Chavez: UNM Arts Management
Suzanne Sbarge: Executive Director 516 Arts
"It's really an essential piece of development. If you just have buildings and corporations and government, that would be a boring place; what brings it alive is the arts. I think people are starting to recognize that and take that discussion more seriously."
---
The Irish Arts Center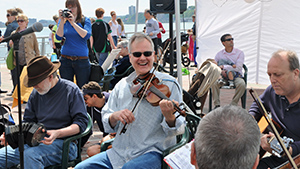 The Irish Arts Center in New York City builds programs that bring artists and community together.
"I think the Irish Arts Center really is a great outlet for contemporary Irish artists, because you end up coming here in the mix with a lot traditional artists. It definitely fosters the arts, there's no question about it."