Jonathan Blaustein, The Hip Hop Industry, Sacramento, California Artists, WE CARE ARTS
Airs Friday March 13, at 9:00 pm on Ch. 5.1
---
Jonathan Blaustein
Taos photographer Jonathan Blaustein goes grocery shopping with one dollar.
"I was thinking about what it means to be a food consumer in the 21st century."
---
The Hip Hop Industry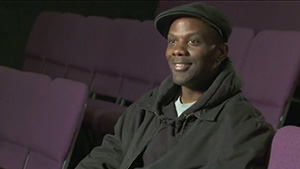 Explore the challenges and stereotypes of the hip hop industry through multi-media theater.
"Let's take a critical look at what's going on in mass media, in pop culture, and let's see what's really behind these images. Who's behind the money, why are these images so important?"
---
Sacramento, California Artists
Sacramento, California artists want to remember their neighborhood…and use dumpsters as canvas.
"What better thing to use as our canvas than our history? And that is dumpsters. You see them all over the city whether you're in the best part of the city, or the not-great part of the city. With the help of the artists, we turn these boxes into works of art."
---
WE CARE ARTS
WE CARE ARTS opens its doors to those most in need of community support.
"Art has the ability to connect, it fuels something deep inside somebody when they create something; nobody can beat it out of them, nobody can steal it from them, and that can be grown and can be encouraged."