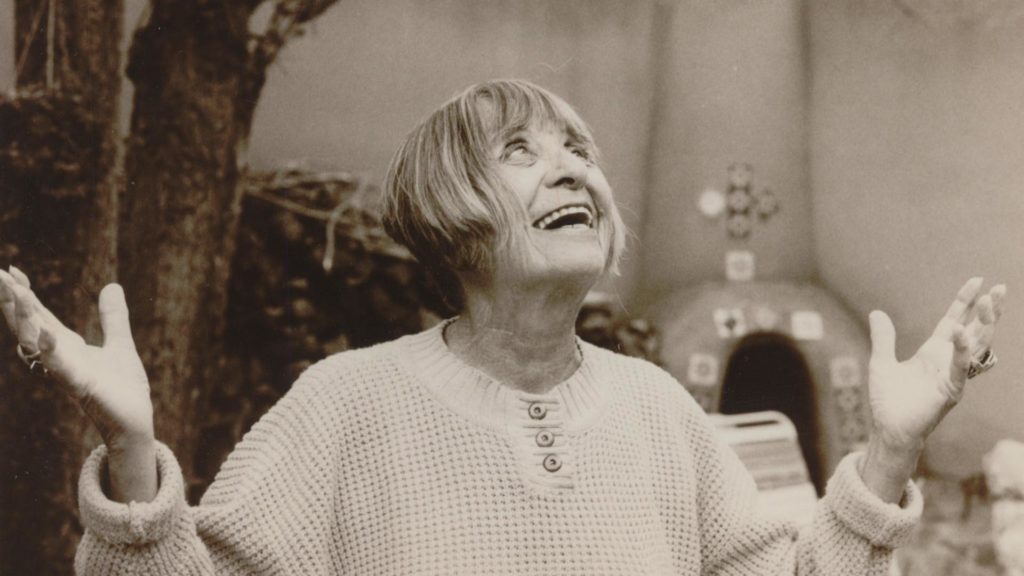 Bea Mandelman takes her place among the top in a long line of delightful Taos characters. Not long after moving to Taos in 1988, I met Bea. Soon my wife, Caroline, and I established an ongoing friendship and loving relationship with her that overrode her often-rocky relationships with many of her Taos friends. 
Bea was a consummate painter. She loved to talk about art and in particular her most recent paintings. I soon found that it was almost impossible to look at any of her past work, as studio visits only allowed discussion of the canvases she had most recently completed.
During most of the time we knew her, Bea fought cancer. She struggled through long series of radiation, chemotherapy and operations, yet never stopped painting. After loosing her hair from the difficult chemo treatments, she started wearing a blonde wig that she referred to as her "hooker" wig. Known for her colorful and eccentric dress, Bea maintained her role, often complaining but always making art. She would appear wearing a red sweater, purple skirt, black and white striped stockings and green shoes, echoing the palette of her paintings. Once in the mid 90s after Bea has been rushed to the hospital in Santa Fe, Caroline and I stopped to see her in the emergency room on a Thursday on our way to the airport for a short weekend trip. As we left we lamented the fact that we might not see her alive again as her situation appeared very grave. On Sunday afternoon on our return to Taos we stopped again at the hospital. To our surprise we found her sitting up in bed reading the Sunday New York Times, eager to talk about art. She looked up over her reading glasses at us and said "Let's go to Mexico"!!!
Bea never considered herself a regional painter. Even though she lived in Taos for over fifty years, she always painted as a modernist, stretching creatively to explore her intuitive lyrical abstractions. She religiously poured over the New York Times and art magazines to stay abreast of what was going on in the greater art world. It was with the major painters of the day that she compared her work.
Bea and Agnes Martin had been close friends in the 1950s, when Agnes lived in Taos. Many evenings during this period at 5:00, after a day of painting, Bea, Louis Ribak (Bea's husband), Agnes and Clay Spohn (a painter from San Francisco living in Taos) would gather at Bea and Louie's house for cocktails and conversation. With Agnes' subsequent success, after moving to New York in 1958, Bea, I think, felt left out from larger recognition. Her demands on and unrealistic expectations from dealers had made for a very erratic exhibition and sales history over the years. Despite Bea's disappointment in not being more recognized, she continued to cherish her friendship with Agnes. In late 1992 Agnes Martin moved back to Taos, after an absence of many years. Bea and Agnes resumed their friendship and would occasionally have lunch.
Bea was driven to paint. It was her oxygen, her total life. As she struggled with her failing health, she always continued to work, at times having to be propped up by her caregivers while she painted. To the end she loved talking about art and discussing her own work. A burst of sales and recognition just months before her death gave her joyous vindication for her long pursuit of excellence in her work and her unrelenting passion for color and form.