Larry Mitchell, Syd Moen, Portland locals, Patrick Renner
Airs Friday October 17, at 9:00 pm on Ch. 5.1
---
Larry Mitchell
Grammy award-winning producer, engineer and performer Larry Mitchell has toured the world playing guitar with well-known artists, including Tracy Chapman, Billy Squier, and Ric Ocasek. In a special performance, Larry weaves guitar textures that showcase his virtuosity.
"When I create music, I'm doing it for me first. And then when you play it you realize it's no longer for you. You're sharing it. You can play music and instantly people smile."
---
Syd Moen
Photographer Syd Moen creates "Little Planets."
"A 360 degree panorama is a spherical image. You can see the 3-D aspect on a computer. But a little planet is the same image only it's mapped 2-D. And so that's the whole image that you see around you."
---
Portland locals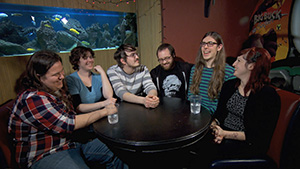 Portland locals share the art of comedy.
"You have to be really good at failing, like a lot. Like a lot, a lot, because sometimes it's gonna be awesome and the rest of the time it's just gonna be maybe the worst thing you've done to yourself."
---
Patrick Renner
An entire neighborhood helped Patrick Renner realize his creative vision.
"I think public art is incredibly important because it reflects whatever's going on in society. It can either be something just a pure pleasure or maybe it can catalyze conversation around different issues."