Steina and Woody Vasulka, Suzanne Vilmain, Peter Sarkisian
Airs Saturday June 27, at 4:00 pm on Ch. 5.1
Steina and Woody Vasulka
Pioneers of video art, Santa Fe's Steina and Woody Vasulka take us into their world.
"It's no fun to go and say today I am going to make a masterpiece. That is of no interest to me."
---
Suzanne Vilmain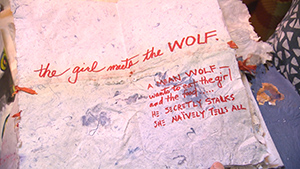 Artist Suzanne Vilmain shares how books can be much more than words.
"The book holds the possibility of just about anything. And I've seen books made about unbelievable things."
---
Peter Sarkisian
Santa Fe's Peter Sarkisian sees video as a medium for exploration.
"Essentially what I'm doing with video is I'm trying to transform an experience killing medium. Video itself does away with the experience, it replaces it with information and there's a lot of value in that information, but it's not enough."