Luci Tapahonso, Luke Hillestad, Gunilla Klingberg, Jayden Moore
---
Luci Tapahonso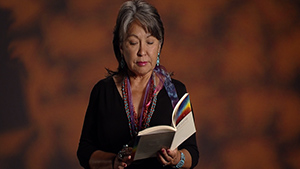 Navajo Poet Laureate Luci Tapahonso shares how her poetry honors words.
"Things that a person says, that a person literally utters, is a sacred thing."
---
Luke Hillestad
Inspired by Rembrandt and Caravaggio, painter Luke Hillestad captures a strong sense of emotion.
"When I first started painting I thought it would be fun to do a bunch of paintings of my friends in hoodies and jeans. Then I tried to experiment – I would take things and make them look like they could be from any century."
---
Gunilla Klingberg
Swedish artist Gunilla Klingberg uses company logos to create intricate patterns.
"I'm interested in the combination to clash the iconography taken from the western world with this image, which resembles of a sacred mandala."
---
Jayden Moore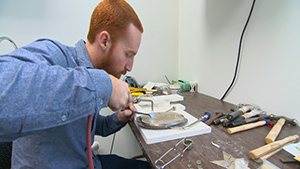 Jayden Moore takes momentos from the early 20th century and reassembles them into beautiful artworks.
"I'm interested in having these things, cutting them apart, giving them a new history, a new aesthetic."