Kenn Rodriguez, Loriel Andre'a, Peter Staley, Tony Furtado
---
Kenn Rodriguez
Hakim Bellamy interviews National Slam champ Kenn Rodriguez, who made a big impact in Albuquerque's poetry culture.
"Poetry is basically taking something that is ordinary and making it extraordinary."
---
Loriel Andre'a
Model Loriel Andre'a shares how she takes a different view on beauty and working in the industry.
"It's really important for people to just be who they want to be and to be able to express themselves freely and just do what they want."
---
Peter Staley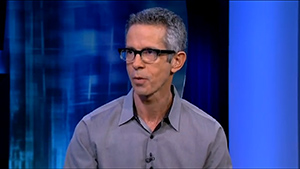 Peter Staley, activist featured in Oscar-nominated documentary "How to Survive a Plague," takes on an important issue of our time.
"What the film shows is this movement, this community, rising up."
---
Tony Furtado
An artist on the banjo, Tony Furtado, also expresses himself through sculpture.
"If I can explore avenues of something, either with an instrument or with clay, that's something that's just the root of what I love doing."