Ramón José López, Larry Littlebird, Carlos Contreras
Airs Friday January 30, at 9:00 pm on Ch. 5.1
Ramón José López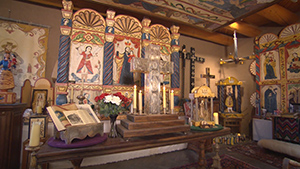 A National Heritage Fellow, Santa Fe santero Ramón José López shares how his rich heritage influences his artwork.
"The main reason I continue in the traditional methods is because I see a different quality of the artwork."
---
Larry Littlebird
In a time when we need story more than ever, pueblo storyteller Larry Littlebird shares the importance of learning to listen.
"Listening to what's within is what the stories are really, truly about."
---
Carlos Contreras
Albuquerque poet Carlos Contreras shares how words and poetic insight can make real change.
"I care because somebody has to."