Alexander Girard, Fabergé Eggs, Georges Braque, Walter Arnold
Airs Friday January 10, at 9:00 pm on Ch. 5.1
---
Alexander Girard
Internationally acclaimed designer Alexander Girard created a mid-century masterpiece for Albuquerque's Unitarian Church – a mural of over 5000 pieces celebrating all faiths.
"He looked at the world through an experiential lens. He wanted to see how people related to their place in the world and each other."
---
Fabergé Eggs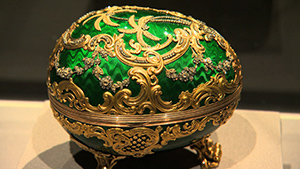 The craftsmanship of a Fabergé egg, an ancient Russian craft, is so unique that no other jeweler has ever been able to replicate it.
"So, with a Nobel egg, we have this platinum egg that has several layers of enamel on it that is engraved and etched with snowflake patterns… it's exquisite."
---
Georges Braque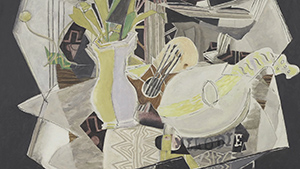 Georges Braque, a 20th century French artist, invented Cubism with Pablo Picasso.
"Braque is a very important artist for the history of 20th century of modern art, but he is not very well known."
---
Walter Arnold
Walter Arnold, a Chicago stone carver passionate about his craft, puts contemporary ideas into his work.
"People think of sculpture as shape and form; it's really about light and shadow."