Erin Cone, Charles James, Himalayan Deities, K12 Gallery & TEJAS
Airs Friday February 13, at 9:00 pm on Ch. 5.1
---
Erin Cone
Santa Fe painter Erin Cone plays with human gesture and abstracting form.
"I think I'm very interested in the composition and the pure form, and distilling the realism just as a way to heighten its expressive power."
---
Charles James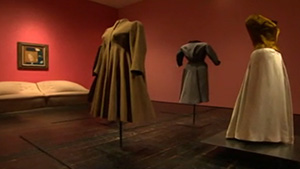 Fashion designer Charles James brings poetry to fashion design.
"I think what would be great for people to take away from this exhibition is to think about the conceptual aspects of a fashion designer."
---
Himalayan Deities
Himalayan deities who guide and protect believers on the path to enlightenment are highlighted at the Rubin Museum.
"Peaceful deities in general are pleasing; they wear beautifully ornamented dress. Wrathful deities have terrifying expressions and they emanate flames."
---
K12 Gallery & TEJAS
K12 Gallery & TEJAS, an arts center in Dayton, Ohio, creates positive direction for at-risk children.
"Just a little seed of inspiration can really change a person's life…and many other people's lives, too, in the process."