Ramón José López, Abrahán Garza, Michael Bise, Lee Kogan
---
Ramón José López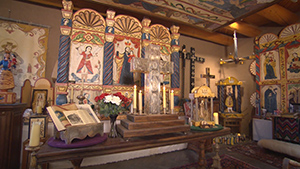 A National Heritage Fellow, Santa Fe santero Ramón José López shares how his rich heritage influences his artwork.
"The main reason I continue in the traditional methods is because I see a different quality of the artwork."
---
Abrahán Garza
Abrahán Garza's photographs remind us that history is often hiding in plain sight.
"Everyone thinks we knock everything down and put it back up, but a lot of the rich, rich history is still standing."
---
Michael Bise
Michael Bise creates intricate, highly personal drawings that trace the narrative of his life, touching on themes of family, love, loss, and hope.
"The things that I try to deal with in my work are those very essential things."
---
Lee Kogan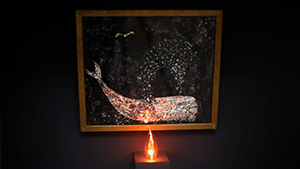 American Folk Art Museum curator Lee Kogan takes us inside the exhibit of tinsel paintings, a women's art form in the 1850's to 1890's which harks back to a Renaissance art form of reverse painting on glass.
"They were displayed in the dining room and parlor, in their time, and glowed in candlelight and later gaslight."