Bill Gilbert, Edgar Allen Poe, Kao Kalia Yang, Kenny Rivero
Airs Friday April 4, at 9:00 pm on Ch. 5.1
---
Bill Gilbert
New Mexico land artist Bill Gilbert shares his approach to creating art.
"What makes land art, is that there's a consciousness about that dialogue, the dialogue with the land. It is about thinking about that relationship, your relationship as a human being to the planet as your subject matter, rather than an entirely human discourse."
---
Edgar Allen Poe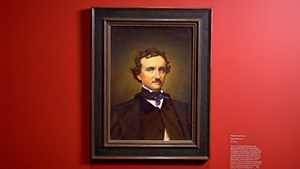 Edgar Allen Poe's influence on other artists.
"I think the critic that said, during Poe's lifetime, that Poe's work will not really be understood until after his death was absolutely right. And I think that it's taken us 150 years to really catch up with Poe and fully catch on to what Poe was trying to do."
---
Kao Kalia Yang
Kao Kalia Yang, a Thai immigrant from a refugee camp, finds her voice through poetry.
"For me, writing is not about the subject, the verb and the noun. It is a sequencing of meaning, a chase after inspiration."
---
Kenny Rivero
Kenny Rivero explores his identity through painting.
"In my practice in general, I try to locate all the narratives that pop up in the context of New York and the Dominican Republic – my family is from there."