Nick Abdalla, Barbara Sorensen, Howard Solomon, Joe Powers
Airs Friday April 17 at 9:00 pm and Saturday April 18, at 4:00 pm on Ch. 5.1
---
Nick Abdalla
Longtime Albuquerque artist Nick Abdalla finds that process is the most important.
"I've learned how to play again."
---
Barbara Sorensen
Sculptor Barbara Sorensen's work radiates with energy.
"I like the mark of the artist to show, and I think as a result there's a lot of energy that's infused in the work just subconsciously."
---
Howard Solomon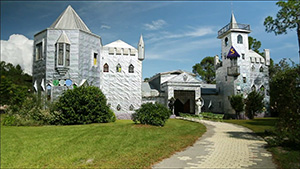 Artist Howard Solomon creates his home, reminiscent of a medieval castle. It is made from scraps.
"When I look at a piece of scrap metal or junk, as we call it, it reminds me of something. It might look like a nose or an ear or a hand."
---
Joe Powers
Musician Joe Powers received his first harmonica as a child, a gift that turned into a lifelong passion.
"I really love the kind of music where I can close my eyes and I can make it my own."