Antiques Roadshow postpones 2020 production tour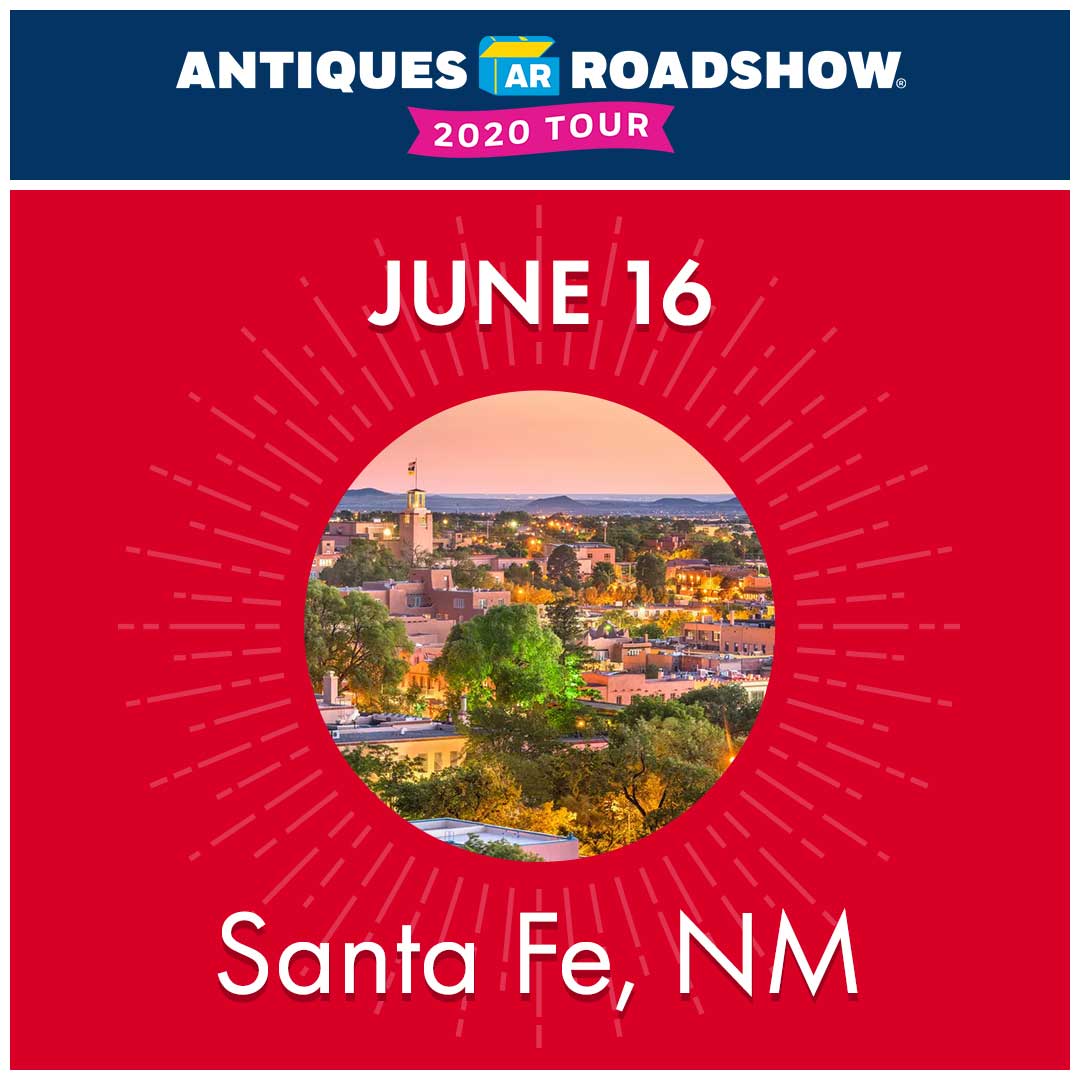 MARCH 17, 2020 — ANTIQUES ROADSHOW is continuing to prioritize the safety and health of its event guests, volunteers, appraisers, staff and crew. In light of the evolving circumstances related to coronavirus (COVID-19), WGBH and ANTIQUES ROADSHOW have decided to postpone all 2020 Production Tour events.
Further information around new dates for these events will be available in the coming days and will be communicated directly via email to event ticket holders.
ANTIQUES ROADSHOW will continue to follow advice from government and health organizations, both nationally and locally in each Tour city as new 2020 event dates are selected.
We are optimistic that we will be back on the road soon and wish everyone well during this unsettling time.
In search of America's hidden treasures for the series' 25th season, ANTIQUES ROADSHOW visits Santa Fe, New Mexico on Tuesday, June 16 as part of its 2020 Production Tour! PBS's most-watched ongoing series celebrates this milestone with stops exclusively at distinctive, historic locations across the country.
"Holding events at these locations allows our cameras to film appraisals in and around places that are treasures in their own right, adding an exciting depth to our show," said ROADSHOW executive producer Marsha Bemko. "I can't wait to see what treasures we uncover in Santa Fe. And stay tuned, we'll be revealing the historic location we've selected very soon!"
From each of the 2020 events, three episodes of ROADSHOW per city will be created for inclusion in the 17-time Emmy® Award nominated production's 25th broadcast season, to air in 2021. Produced by WGBH Boston, ANTIQUES ROADSHOW is seen by up to 8 million viewers each week. ANTIQUES ROADSHOW airs locally Mondays at 7pm on New Mexico PBS.
ANTIQUES ROADSHOW 2020 Production Tour:
April 28 Williamsburg, Virginia
May 12 Nashville, Tennessee
May 25 Boston, Massachusetts
June 9 Estes Park, Colorado
June 16 Santa Fe, New Mexico
MORE INFORMATION
About ANTIQUES ROADSHOW
Part adventure, part history lesson, part treasure hunt, 17-time Emmy® Award nominated ANTIQUES ROADSHOW began its 23rd broadcast season in 2019 and is the highest-rated ongoing primetime PBS series. The series is produced by WGBH Boston for PBS under license from the BBC. The executive producer is Marsha Bemko. ANTIQUES ROADSHOW is sponsored by Liberty Mutual Insurance, Ancestry, and Consumer Cellular. Additional funding is provided by public television viewers. ANTIQUES ROADSHOW press materials, including streaming video and downloadable photos, are available at pbs.org/pressroom. For more ANTIQUES ROADSHOW — including streaming episodes, searchable archive, web-exclusive video, in-depth articles, owner interviews and more — visit pbs.org/antiques. You can also find ROADSHOW on Facebook, Twitter, YouTube, Instagram, Pinterest, and Tumblr.
About WGBH
WGBH Boston is America's preeminent public broadcaster and the largest producer of PBS content for TV and the Web, including Frontline, Nova, American Experience, Masterpiece, Antiques Roadshow, Arthur, Curious George and more than a dozen other prime-time, lifestyle, and children's series. WGBH also is a major supplier of programming for public radio, and oversees Public Radio International (PRI). As a leader in educational multimedia for the classroom, WGBH supplies content to PBS LearningMedia, a national broadband service for teachers and students. WGBH also is a pioneer in technologies and services that make media accessible to those with hearing or visual impairments. WGBH has been recognized with hundreds of honors. More info at wgbh.org