'The river's drying because we're running out of water'
This summer, the sweet spot for visiting the Albuquerque bosque has been narrow. You can go during the scorching daylight hours or visit at dawn or dusk and be eaten alive by mosquitoes.
(Bike riders and speedy runners might outpace the bloodsuckers. As a meanderer easily distracted by bird calls and animal tracks, I'm easy prey.)
I'd finally worked out some complicated calculations regarding time of day, level of sunscreen, amount of clothing, and number of tolerated mosquito bites and was happy to hit my usual trails and revel in summertime birdsong. Last week, I was fully in the throes of Happy Bosque Time, when I came home and heard the Albuquerque reach of the Rio Grande will dry again this summer.
You'll remember that last year, it dried in the Albuquerque stretch for the first time in decades.
Of course, the river has consistently dried in the summer south of Socorro. For a couple of decades now. And it's dry there right now.
For a long time—for better or for worse—water managers kept drying from occurring in the Albuquerque stretch. In part because of the endangered silvery minnow, but also because … let's face it, it looks bad.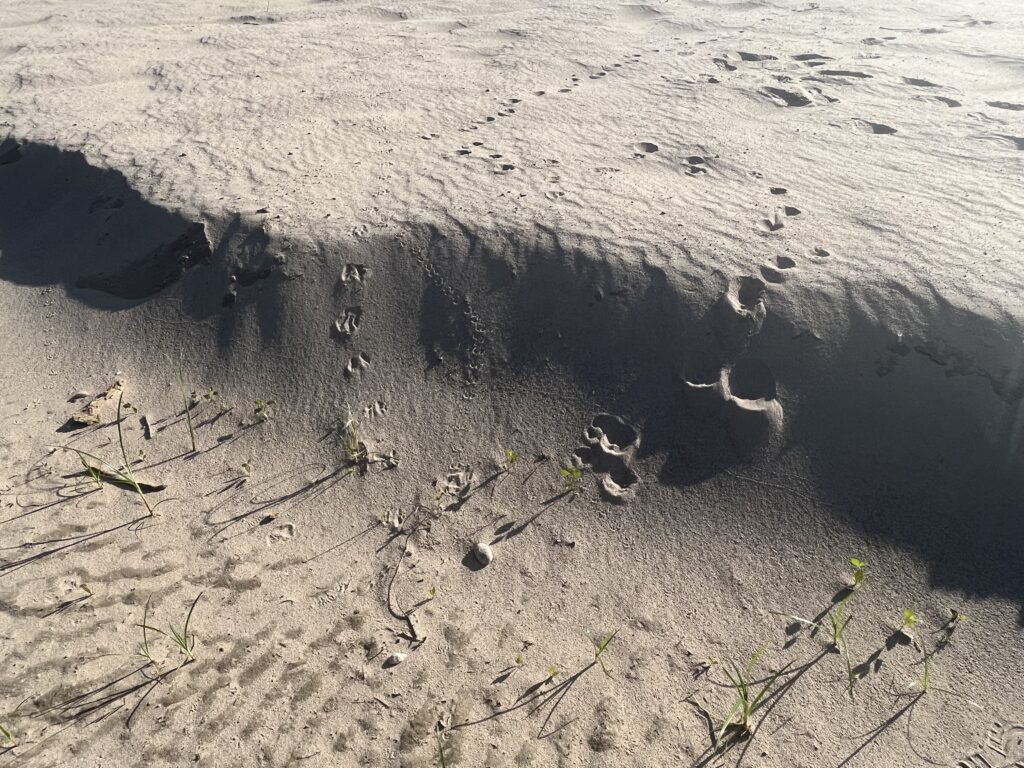 But things are bad. I've been covering this for a long, long time. Even when we have a normalish snowpack, the Middle Rio Grande doesn't flow perennially through the year. We demand too much of a river that's further diminished by warming.
"It's got to rain, Laura," the Middle Rio Grande Conservancy District's Chief Engineer Jason Casuga said to me on Monday. "Or we're in a tough spot."
A few weeks ago, I wrote about how the water utility and the irrigation district, along with the federal government, worked to trade some interbasin water stored upstream. Right now, if you peer over a bridge in Albuquerque and look down at the Rio Grande, you'll see two types of water, legally and logistically speaking: Water that's native to the Rio Grande and its tributaries and water from the Colorado River Basin that's piped from tributaries of the San Juan River into the Chama River, which flows into the Rio Grande in Española. A little less than half of the water you'll see in the Middle Rio Grande right now is San Juan Chama water, said Casuga.
But on Wednesday—tomorrow—that San Juan Chama water will be spent. By the weekend, the Rio Grande will start drying in Albuquerque.
Unlike last year when later summer rainstorms showed up to nourish the valley, the forecast isn't good this year. "Always, pray for rain…but the forecast for rain is not on the horizon like it was last year," Casuga said, adding that the district is telling irrigators to plan accordingly if they were considering planting fall crops.
"The river isn't drying because water is being delivered to farmers," said Casuga. "The river's drying because we're running out of water."
This week, I'll keep up with the Rio Grande over on Instagram. But we won't be covering it on New Mexico in Focus on Friday. That's because we're airing a special episode.
As most of you know, the U.S. Nuclear Regulatory Commission approved a 40-year license for Holtec International to build a facility on land owned by the Eddy-Lea Energy Alliance that would store nuclear waste from power plants the private company is decommissioning in other states.
As planned, the facility would eventually hold up to 10,000 canisters, with each canister holding 8,680 metric tons of spent nuclear fuel from commercial power plants.
The New Mexico Legislature passed Senate Bill 53 this year, which would prohibit state agencies from issuing permits, contracts or leases for the facility—unless the state approves the facility, or the federal government moves forward with a permanent storage spot for the nation's commercial nuclear waste.
On this special episode of Our Land, you'll hear from John Heaton, chair of the Eddy Lea Energy Alliance and a former New Mexico state representative; Sen. Jeff Steinborn, the sponsor of Senate Bill 53; and Dr. Myrriah Gómez, a professor at the University of New Mexico and the author of Nuclear Nuevo México: Colonialism and the Effects of the Nuclear Industrial Complex on Nuevomexicanos.(Dr. Gómez was interviewed on University Showcase last week, too. You can listen to that conversation with KUNM's Megan Kamerick online.)
In fire news: On Sunday, according to the Santa Fe National Forest, lightning ignited a fire in the Jemez Mountains. In cooperation with Valles Caldera National Preserve, the Forest Service is working to fully suppress the McKinney Fire. I haven't seen an update ahead of sending out this newsletter, but on Monday afternoon the New Mexico Department of Game and Fish closed the kids' pond at Seven Springs Hatchery north of Fenton Lake State Park and is "putting together a plan to prioritize the relocation of fish inventories currently at the hatchery should that become necessary."
The Black Feather Fire continues to burn on the other side of the Jemez near the Peñas Negras Trail in the San Pedro Parks Wilderness. As of this morning, it was around 2,100 acres and 28 percent contained. According to the Incident Management Team, there are 126 people working the fire, which even within the wilderness is being managed for suppression. The communities of Mesa Pinabetal, Mesa Poleo, and Wetherill remain in "Ready" status for evacuation. For more information, including closure orders, visit InciWeb.
For those interested in some of the logistics, here are the highlights sent out by the Incident Management Team:
Resources have moved into a more direct attack due to decrease in current fire behavior and in order to mitigate threats to values at risk. In switching to more direct attack, prior hazards have been mitigated. Crews are utilizing UAS (unmanned aircraft system) with infrared capabilities in order to mitigate exposure. Suppression repair work will continue, graders will be performing the necessary work according to the suppression repair plan across the fire area. Hotshot crews were able to reach portions of the fire within the wilderness, locating areas of more active fire and scouting locations that can safely be accessed for future suppression activities. Crews outside of the wilderness finalized chipping operations and continued to work on containment lines along the eastern edge of the fire.
More for you to read:
• "Nuclear waste storage permit slated for September public meeting" (Danielle Prokop, Source New Mexico)
• "Lawmakers request feds and state officials find third party in chromium plume fight" (Danielle Prokop, Source New Mexico)
• "State and federal officials support mediation in dispute over treatment of LANL chromium plume" (Scott Wyland, Santa Fe New Mexican)
• "Wildlife advocates say Game and Fish allows for overhunting bears and cougars" (Hannah Grover, New Mexico Political Report)
• "Group files ethics complaint against Interior Secretary Haaland for Chaco moratorium" (Mike Easterling, Farmington Daily Times)
• "Portales residents frustrated with water restrictions, lack of communication" (Alike Medina, KOB-TV)
• "50,000 acres will be removed from jaguar critical habitat, judge rules" (Tony Davis, Arizona Daily Star)
• "Dry Springs in Central Texas Warn of Water Shortage Ahead" (Dylan Baddour, Inside Climate News)
• Wildfire Today has a post about the links between exposure to wildfire smoke and cognitive decline.
• "47 Days in Extreme Heat, and You Begin to Notice Things" (Terry Tempest Williams, The New York Times)
• "Heat Is Not a Metaphor" (Alexis Pauline Gumbs, Harper's Bazaar)
• "Can Climate Conversations Be a Solution?" (Katherine Rapin, Yes! Magazine)
And in case you missed it on the show last week, correspondent Antonia Gonzales interviewed Leona Morgan, a Diné community organizer, about uranium mining and its impacts on Indigenous people.
And thank goodness for Source New Mexico. For real. Here are links to the outlet's stellar reporting on the plastics fire in Albuquerque two weeks ago:
• "Burned plastic, metal, fuels released into Albuquerque sky by fire at plastic facility" (Austin Fisher, Source NM)
• "'It smelled like plastic. That creates a memory'" (Austin Fisher and Megan Gleason, Source NM)
Yesterday, Pueblo of Isleta Governor Max Zuni hosted a meeting with various other government agencies about the Aug. 6 fire—and about the growth of industry at Mesa del Sol.
According to a press release from the pueblo, Atkore has submitted an initial report to the state and is also required to submit a corrective action plan. The pueblo is also looking forward to the City of Albuquerque Environmental Health Department's air quality testing report. "The Pueblo of Isleta is downstream, downgradient, and downwind of Mesa del Sol and southern Bernalillo County," said Governor Zuni. "We will continue to work with local, state, and federal regulators to ensure that proper environmental remediation, including air, water, soil monitoring, occurs in the wake of the Atkore fire."
Lastly:
This month, a district court judge in Montana ruled that the state had violated the constitutional rights of young people in supporting fossil fuel development. Dana Drugmand over at DeSmog has a good article about the lawsuit and the ruling's implications. The New York Times covered the ruling as well, noting:
The ruling means that Montana, a major coal and gas producing state that gets one-third of its energy by burning coal, must consider climate change when deciding whether to approve or renew fossil fuel projects.
The Montana attorney general's office said the state would appeal, which would send the case to the state Supreme Court.
Speaking of Montana…in not-New Mexico and not-environment news, I wanted to share that my friend Chris LaTray was just named Montana's Poet Laureate. I'm super happy about that, and someday, I'll tell y'all about the project I'm working on with him and a whole crew of amazing writers—including Daniel Rothberg, whose newsletter I mentioned recently. Chris has a newsletter, "An Irritable Métis," that you can sign up for, as well.
Lastly, head on over to Instagram and identify the animal tracks…
P.S. If a friend forwarded you this message, sign up here to receive the newsletter yourself. You can also read recent newsletters online. And if you miss us throughout the week, follow Our Land on Instagram.