Cerro Pelado Fire, plus: Rio Grande goes from rip-roaring to muddy & dry
The Rio Grande's flows were glorious this spring. But river drying in the Middle Valley began a few days ago in the San Marcial reach and is expected to continue expanding upstream and downstream from there.
On Monday after work, I drove to the Highway 380 bridge, which still has flood debris sticking out from underneath it. Standing on the bridge, I was surrounded by dragonflies and swallows; mourning doves watched from the powerlines and towhees called from the brush. The channel is sandy, with a few puddles still remaining. The surviving fish are mostly sluggish (it was still 100 degrees at 7 p.m.), though when a joy-riding truck splashed through, they panicked, obviously.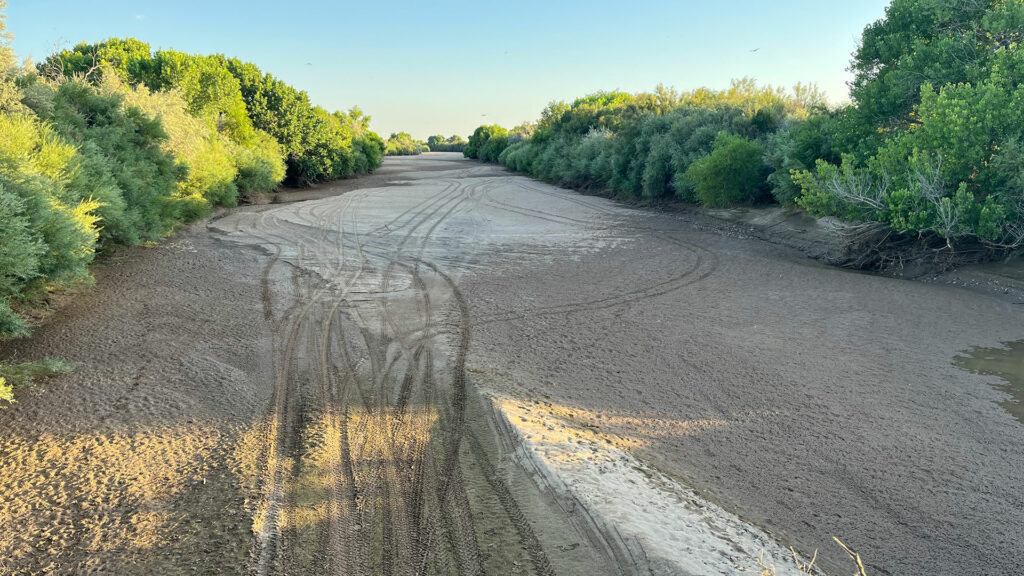 The U.S. Fish and Wildlife Service has salvage crews out seining for endangered Rio Grande silvery minnows. But the rapid change in flows is a blow for lots of species that rely on the river, including other fish, but also beavers (who suddenly find themselves without water) and birds who thought they might have a lush (and buggy) summer ahead. In San Antonio, near the Highway 380 bridge, the river's flows dropped from 3,600 cubic feet per second on July 2 to about 90 cfs on July 17 to zero on July 23.
When the river you rely upon for food, water, and habitat is suddenly miles away, life gets a lot harder. I once asked a friend, an expert on beavers, what happens when their dens are suddenly far from water. When they have to cross land, he said, they're just "slow meat" for predators.
Right now, there is still water in the irrigation canals and fields there, but unless the monsoons arrive, farmers can expect to feel the pain this summer, too.
According to a July 19 notice from the Middle Rio Grande Conservancy District (MRGCD), the river's "natural flow has dropped below the amount needed to meet the current irrigation demand."
(Just a reminder: There are two kinds of water in the Rio Grande: "Native" water from the Rio Grande and its tributaries, and San Juan-Chama water, which is piped from tributaries of the San Juan into a series of siphons, tunnels, and tributaries until it reaches the Chama River, a tributary of the Rio Grande.)
MRGCD has already started releasing some of its San Juan-Chama water out of storage to meet irrigation needs but, there's a problem:
Normally, SJCP water stored in Heron Reservoir would be moved to Abiquiu Reservoir as releases are being made for MRGCD use. Water released from Heron Reservoir must travel though El Vado Reservoir to get to Abiquiu Reservoir. Last week, the MRGCD was notified that there is a problem with debris obstructing the El Vado Dam outlet works which is limiting the rate of release out of the dam. This problem is limiting the MRGCD from moving SJCP water from Heron Reservoir to Abiquiu Reservoir.
As they anticipate running out of San Juan-Chama water from Abiquiu Reservoir soon, and don't know when the problem at El Vado can be fixed, MRGCD is negotiating an agreement with the Albuquerque Bernalillo County Water Utility Authority to "exchange" water stored in Abiquiu Reservoir for water stored in Heron Reservoir. But, they say, "Until this agreement is in place MRGCD has access to a limited volume if its SJCP water and is limited in how much water can be released from storage."
In the next few weeks, MRGCD might not have enough water for irrigators, who also might have longer wait times when requesting water deliveries.
Not only that, but: "Recent estimates indicate that the amount of SJCP water available to the MRGCD will not be enough to meet crop demand for the rest of the irrigation season if it does not rain soon. Without significant inflows from monsoon rainstorms, MRGCD expects to run out of its stored SJCP water by the middle of August."
Even though it's disappointing to some and devastating to others, this shouldn't be a surprise.
For years and years, scientists and others have continued to warn that we need to be planning for the warmer world and making changes to how we use, move, and rely upon the waters of the Rio Grande and other western rivers.
A couple of weeks ago, I wrote about rumors around the origin of the Cerro Pelado Fire in the Jemez Mountains, which was reported as a wildfire on April 22, 2022. Now, the U.S. Forest Service has confirmed the fire was caused by a holdover fire from the Pino West Piles Burn, a prescribed pile burn that was completed two months earlier, in February.
You can read news stories from lots of places, including the Albuquerque Journal and the Santa Fe New Mexican. Both also include the statement emailed out from the governor's office yesterday, calling for the federal government to be held accountable.
The 230-page report (parts of which are redacted) includes two investigations, one conducted by a Washington Department of Natural Resources wildland fire investigator and the second by the Forest Service's Law Enforcement and Investigations criminal investigators.
The report is really interesting to read, for lots of reasons—including the descriptions of the forest and burn piles last spring.
When the first investigator, who began his work on April 28, came across a number of slash piles and recently burned ponderosa log decks, he excavated the slash piles about 12 inches. One contained heat below the surface: "I continued to excavate the slash pile by hand and uncovered about 10 shovels full of smoldering charcoal. When this material was exposed to the wind, it readily ignited and burned with open flame."
According to the second investigator: "Winds during the red flag conditions likely exposed the ash berms around the pile in question as well as others in the area. After the berms were exposed, impinging winds likely increased ventilation and oxygen levels to the smoldering woody materials within the berms. The increased oxygen concentration then increases temperatures and likely caused a transition from smoldering to flaming of the fuels within the berm as well as adjacent fuels to the pile."
That report also noted that the piles of processed trees, brush, and logging litter had been built by crews working for TC Company, the company that sued the Forest Service to release documents related to the fire's origin.
On June 6 of last year, the Forest Service investigator spoke with the head of that company:
[H]e believed the fire started near a mechanical slash pile west of where they were speaking. He expressed his frustration that Forest Service employees reportedly made them leave what he described as a 10-acre stringer of dog hair thicket right next to the pile where he believed the fire started. He went on to say he was hired to thin this forest so things like this did not happen. He explained he was required to leave another 20-acre area on the other side of the draw that was not thinned which he believed contributed to the fire.
According to a statement from Forest Service's Southwestern Regional Forester Michiko Martin, the agency's next step is to "conduct a thorough internal declared wildfire review."
Martin's statement also noted: "Despite being covered by wet snow, this holdover fire remained dormant for considerable time with no visible sign of smoke or heat. This only further shows how the Santa Fe National Forest was affected by extreme environmental conditions caused by historic drought in 2022."
Our warming forests are under extreme stress, true. But the incident also illustrates precisely what State Forester Laura McCarthy spoke about on our show last summer (when the U.S. Forest Service was ignoring repeated requests for interviews): that climate change has outpaced prescribed fire protocols.
On Friday's show, we aired a conversation with filmmakers Karen Coates and Jerry Redfern about cluster bombs, which the Biden administration has sent to Ukraine.
"The big problem with them is that you're throwing so many out there that you inevitably have a failure rate," explained Redfern. "If you're throwing out hundreds at a time or thousands at a time—or in the case of Laos and Vietnam—hundreds of millions at a time, those failure rates add up. Then, you're left with millions of these things in the ground, and years afterward they're found by farmers or kids, and it kills them."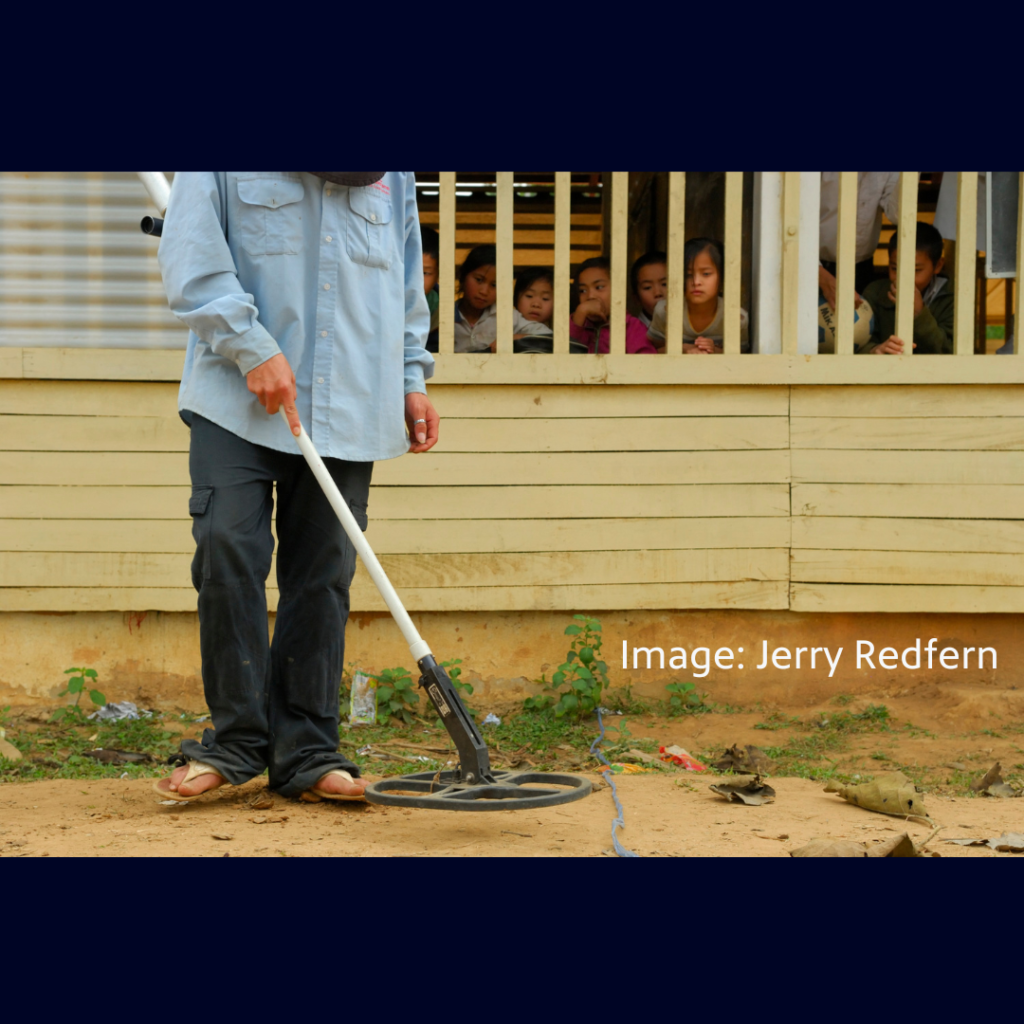 The two also discussed their film, "Eternal Harvest," which documents the bombing campaign in Laos between 1964 and 1973, when the U.S. military dropped four billion pounds of explosives, about 30 percent of which didn't detonate and remain on the landscape.
"What happens is that anytime you have explosions like that on a battlefield, it does alter the landscape. It means that certain things might not grow there in the future that had in the past. It can change the vegetation, the soil structure. There's a definite human-caused change to the environment. And to the way that people perceive the land, as well," said Coates. "Another big thing about that, and a similarity between say Ukraine today and Laos: both are farming communities, farming areas, and so if you're a farmer and your land has been bombed—your land has been covered with cluster munitions—the way you see that land is going to completely change because you are then afraid to go out anywhere. Even if there's just one that didn't go off, you don't know where it is, so you can't use [the land] safely."
Last Friday, The New Yorker also published a story, "Behind Washington's Decision to Supply Cluster Bombs to Ukraine."
Over on Instagram, I try to keep people in the loop about various news stories and issues, too. Last week, some of the posts included:
• A look at what continued hot temperatures will mean for workers, including those at places like the City of Albuquerque's solid waste department.
• A video of Jerry Redfern explaining how cluster bombs work and why they're so dangerous.
• Appreciation for everyone behind the Our Land lesson plans for New Mexico middle school students that are now up on the PBS LearningMedia website.
• And I haven't had time to repost from my personal account—it's been a busy dang week already—but here's some video of the dry Rio Grande at the Highway 380 bridge.
Some of the other news you won't want to miss:
• "'Oppenheimer' brings painful memories for New Mexico Hispanics" (Russell Contreras, Axios)
• "The Navajo Suffered From Nuclear Testing. Oppenheimer Doesn't Tell Our Story" (Buu V. Nygren, Time)
• "After long wait, money starts to roll out for former employees of shuttered power plant" (Megan Myscofski, KUNM)
• "Combined PNM rate case later this year could settle many disputed investments" (Nicholas Gilmore, Santa Fe New Mexican)
• "South Valley neighborhood asking for air quality rule" (Alaina Mencinger, Albuquerque Journal)
• "County renews Wildlife Services contract" (Jo Lutz, Silver City Daily Press)
• "How green is New Mexico's governor?" (Jeremiah O. Rhodes, Searchlight New Mexico)
I appreciate that you all keep reading the newsletter—despite the hard news and the bad news—and I hope you remember that none of these tough situations are hopeless.
That's why I'd love to leave you this week with a link to On Being—and Ayisha Siddiqa's poem, "On Another Panel About Climate, They Ask Me to Sell the Future and All I've Got is a Love Poem."
Update: The agreement to swap stored water has been signed between MRGCD, the Water Authority, and the U.S. Bureau of Reclamation. According to a press release from the federal agency, the agreement will "transfer up to 30,900 acre-feet of water stored in Abiquiu Reservoir for Albuquerque Bernalillo County Water Utility Authority to Middle Rio Grande Conservancy District and Reclamation, making it available for immediate use. This will be exchanged with a corresponding amount of MRGCD and Reclamation-leased water currently held in Heron Reservoir further north."
P.S. If a friend forwarded you this message, sign up here to receive the newsletter yourself. You can also read recent newsletters online. And if you miss us throughout the week, follow Our Land on Instagram.