The future of fire, the 'gates of hell,' and a COVID reminder
Last week, I sat down with U.S. Forest Service Southwestern Regional Forester Michiko Martin, Santa Fe National Forest Supervisor Shaun Sanchez, and Santa Fe National Forest Fuels Program Manager Dennis Carril.
We had a long conversation about the Hermits Peak-Calf Canyon Fire, Cerro Pelado, prescribed fire protocols, building trust, and the future of fire and forest management in a warming world.
You can watch all three segments of that conversation and the entire episode of New Mexico in Focus on the NMPBS website.
If you'd rather, you can also watch the three segments on their own: In the first part of the show, we talked about the 2022 fire season in New Mexico, and in particular about what went wrong to cause the Hermits Peak-Calf Canyon Fire and the Cerro Pelado Fire. In the second, we focused on new and changing protocols for prescribed fire. And in the third, I asked the three officials about taking responsibility and building trust.
Toward the bottom of the newsletter, I've included links to reports, news stories, and resources mentioned during those conversations.
Sunday was World Rivers Day—and I spent the afternoon hiking up the channel of the Rio Grande in Albuquerque. (Yes, you read that right, "hiking up the channel…")
I've included some photos over on the Our Land Instagram page. It's hard to accurately convey what's happening in the river with iPhone photos. To give you some perspective, however, I stopped by one of the spots where we filmed parts of our 2020 love letter to the bosque. You can look at the changes here.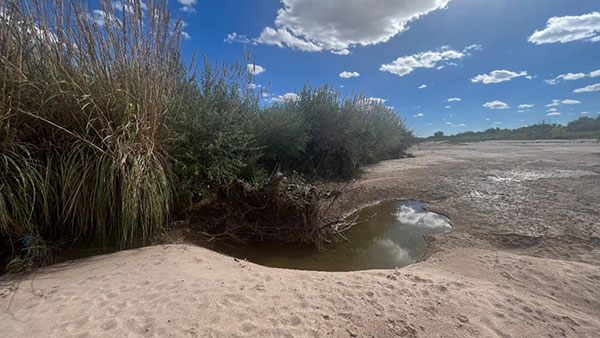 Meanwhile, as the Associated Press reported last week: "UN chief warns of 'gates of hell' in climate summit, but carbon polluting nations stay silent."
According to Seth Borenstein's story:
The head of the United Nations warned Wednesday that the "gates of hell" are at hand as climate change intensifies, and top international officials said the world's leaders still aren't doing nearly enough to curb pollution of heat-trapping gases. They pleaded with major emitting nations to do more.
Those nations remained silent. They weren't allowed to speak because, organizers said, they had no new actions to take.
The only countries that touted their efforts — "first movers and doers," the United Nations called them — were responsible for just one-ninth of the world's annual carbon pollution.
"Humanity has opened the gates of hell," U.N. Secretary-General António Guterres said Wednesday, opening a special climate ambition summit with yet another plea for action. "Horrendous heat is having horrendous effects. Distraught farmers watching crops carried away by floods. Sweltering temperatures spawning disease. And thousands fleeing in fear as historic fires rage."
You can read Guterres's entire opening statement on the United Nations website.
In his closing statement, Guterres tried to offer words of hope and optimism, and ended by addressing the countries, cities, regions, companies, and financial institutions that are "aligning their policies, their strategies, their investments with the 1.5 degrees limit."
To all the "first-doers," he said, "Scale up. Bring together all those that you can bring together with you. Go for it. Take no prisoners."
Some more for you to read:
• "Birthplace of the atomic bomb braces for its biggest mission since the top-secret Manhattan Project" (Susan Montoya Bryan, Associated Press)
• "Inside the delicate art of maintaining America's aging nuclear weapons" (Tania Copp, Associated Press)
• "Tribes get $40 million from the infrastructure law to clean up orphaned oil and gas wells" (Jeanette DeDios, KUNM)
• "PRC moves forward with hearing process for proposed LNG storage facility in Rio Rancho" (Hannah Grover, New Mexico Political Report)
• "Panel: Taos water future may lie west of Rio Grande" (Geoffrey Plant, Taos News)
• "Biologists in slow and steady race to help North America's largest and rarest tortoise species" (Susan Montoya Bryan, Associated Press)
• "Free the American West From Barbed Wire" (Michelle Nijhuis, The New York Times)
• "New Mexicans to get around $9 monthly refunds on PNM bills for a year" (Megan Gleason, Source New Mexico)
• "Moose — maybe Marty? — heading back south toward Santa Fe after relocation"(Nicholas Gilmore, Santa Fe New Mexican)
• And as KOAT-TV reported, there was a 3.5 magnitude earthquake in Lea County on Friday.
Resources mentioned during "The Future of Fire":
U.S. Forest Service's National Prescribed Fire Resource Mobilization Strategy
U.S. Forest Service's Wildfire Crisis Strategy
U.S. Forest Service investigation of the Cerro Pelado Fire
FEMA's Hermit's Peak/Calf Canyon Claims Office
"The Federal Government Accidentally Burned Down Their Houses, Then Made It Hard to Come Home" By Patrick Lohman with Source NM for ProPublica
Southwest Jemez Mountains Collaborative Landscape Restoration
Lastly, just a reminder that New Mexicans can once again order free, at-home COVID tests—and people should be scheduling COVID vaccines, too.
To order tests, just go to COVIDTests.gov. In addition, the New Mexico Department of Health recommends everyone 6 months and older get an updated COVID-19 vaccine. According to a press release from the New Mexico Department of Health:
"To find an appointment, members of the public can view the interactive map at VaccineNM.org or schedule appointments directly with pharmacies and healthcare providers. Some New Mexico providers have reported delays in vaccine deliveries, so if you can't find an appointment immediately, please be patient. Those interested in accessing their vaccine history can do so at VaxViewNM.org. Support for login issues is available through the NMSIIS Help Desk at 833-882-6454.
COVID-19 vaccines remain readily accessible at no cost through private health insurance, Medicare, and Medicaid. Uninsured individuals can receive the COVID-19 vaccine free of charge through a network of health centers, public health offices, and participating pharmacies in the CDC's Bridge Access Program, ensuring universal vaccine access."
P.S. If a friend forwarded you this message, sign up here to receive the newsletter yourself. You can also read recent newsletters online. And if you miss us throughout the week, follow Our Land on Instagram.