Texas Isn't Stealing Your Water
In late May, flows on the Rio Grande through Albuquerque were almost 10 times what they were last year. Snowmelt is coming down the river, and into the ditches and canals of the Middle Rio Grande Conservancy District. Last Friday, we aired my conversation with MRGCD's chief engineer and CEO, Jason Casuga, about irrigation, infrastructure, and the Rio Grande Compact.
"What a difference a year makes. I think anybody in the Middle Valley in Albuquerque can take a stroll to the river and just see that we're in many instances bursting at the seams," Casuga said. "I think it speaks to the crazy patterns that we see, one extreme to another."
Casuga and I also talked a little about the Rio Grande Compact. As he said in the interview, the water flowing through the Middle Rio Grande Valley isn't all headed to Texas, as some people imagine. That water is also flowing to New Mexicans who live below Elephant Butte and Caballo reservoirs.
"The Middle Valley's requirement for the compact is [delivery of water to] Elephant Butte," he said. "Does some of that water go to Texas? Absolutely, it does. But the first users of water that comes out of Elephant Butte are New Mexicans. It's Doña Ana County, it's Hatch, it's that Mesilla area."
Now, as an aside, it's part of my job to be active on social media. That means I get a fair amount of not-always- helpful or kind or truthful feedback, including comments on posts about the Rio Grande along the lines of, "Why is all our water going to Texas?" or, "Top off our reservoirs before we send it to Texas."
While I love friendly rivalries, there's a flippancy toward water rights and interstate river compacts that doesn't serve anyone—least of all New Mexicans, who fully expect Colorado to comply with the Rio Grande Compact.
Having covered environmental issues in New Mexico for more than two decades, I've spent a lot of time trying to find new ways to report on the same things, including the compact. I'm pretty sure anyone nerdy enough to subscribe to this newsletter already knows a lot of what follows. But here are a few key points to keep in mind:
• The Rio Grande Compact, signed in 1939, divvies up water between Colorado, New Mexico, and Texas. The amount of water each state must send downstream is based on how much water is in the river that year: Colorado's water deliveries to New Mexico are based on the Lobatos stream gage on the Rio Grande near the state line, and New Mexico's deliveries to Texas are based on the sum of the measured flow below Elephant Butte dam for the year and the change in storage within the reservoir.
This is different, by the way, from how water is apportioned under the Colorado River Compact. Under that compact, the Upper Basin states must deliver 7.5-million-acre feet of water to the Lower Basin states, regardless of what's actually happening between the banks of the river.
• All the water within the Rio Grande "belongs" to someone—tribes, farmers, cities, and other water rights holders—and the river is highly managed. Water is moved from reservoir to reservoir in careful ways to comply with the compact and meet downstream obligations. People in New Mexico and Texas benefit from the compact and its enforcement.
(If you want to talk about the river itself and its ecosystem, that's another story. In New Mexico, water rights only "belong" to people, none are just for the river itself…)
All this is to say: States can't hoard—or steal—water. And if another state thinks that's happening? Well, that's how we end up with Supreme Court lawsuits and millions of dollars in attorneys' fees…
Here's a look at the news and also a few of the best things I've read recently:
• First, I can't even tell you all how much I'm looking forward to Searchlight New Mexico's coverage of nuclear issues. Here's Alicia Inez Guzmán's first piece, "The Atomic Hereafter." (I also just checked Nuclear Nuevo México: colonialism and the effects of the nuclear industrial complex on Nuevomexicanos by UNM's Myrriah Gómez out from the library.)
• "Interior secretary orders 10-mile buffer for Chaco Canyon" (Scott Wyland, Santa Fe New Mexican)
• "New Mexico imposes oil and gas moratorium on state land near schools" (Susan Montoya Bryan and Christopher L. Keller, Associated Press)
• "Arizona won't issue new-home permits in some far fringes of Phoenix" (Howard Fischer, Arizona Daily Star)
• "A Poisonous Cold War Legacy That Defies a Solution" (Ralph Vartabedian, The New York Times)
• "What We Owe Our Trees" (Jill Lepore, The New Yorker)
• "In Relation to All Things" (Jennifer Douglass, New Mexico Magazine)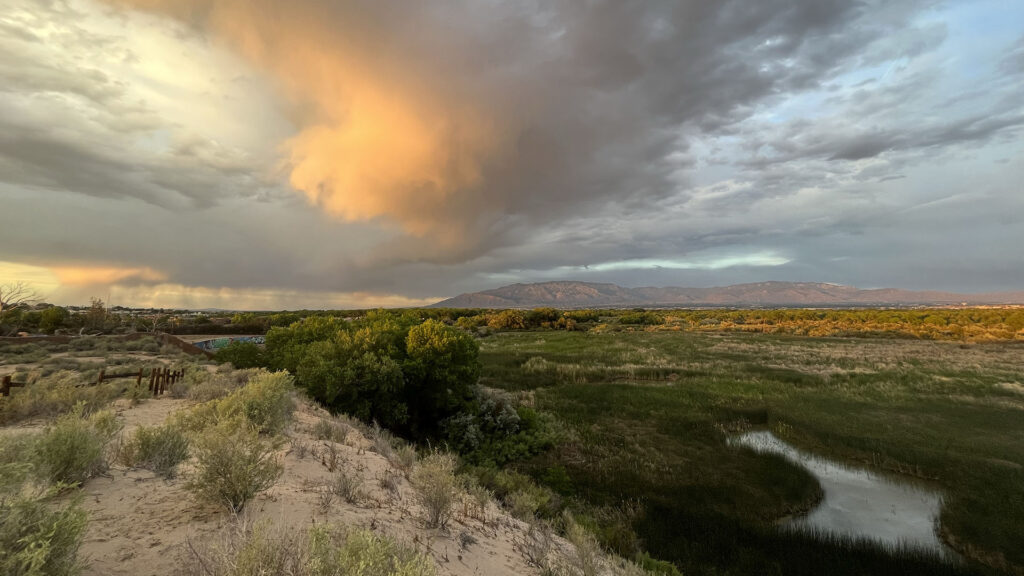 Lastly, get ready to feel so happy when you watch our show about the San Antonio Oxbow on the west side of the Rio Grande in Albuquerque. That airs on Friday!