Room to Move? Outdoor Recreation During the COVID-19 Emergency
This week, Gov. Michelle Lujan Grisham issued a public health order mandating that New Mexicans stay home—going out only when it's "absolutely necessary for their health, safety, or welfare"—and clarifying which businesses are considered essential and can stay open during the COVID-19 emergency.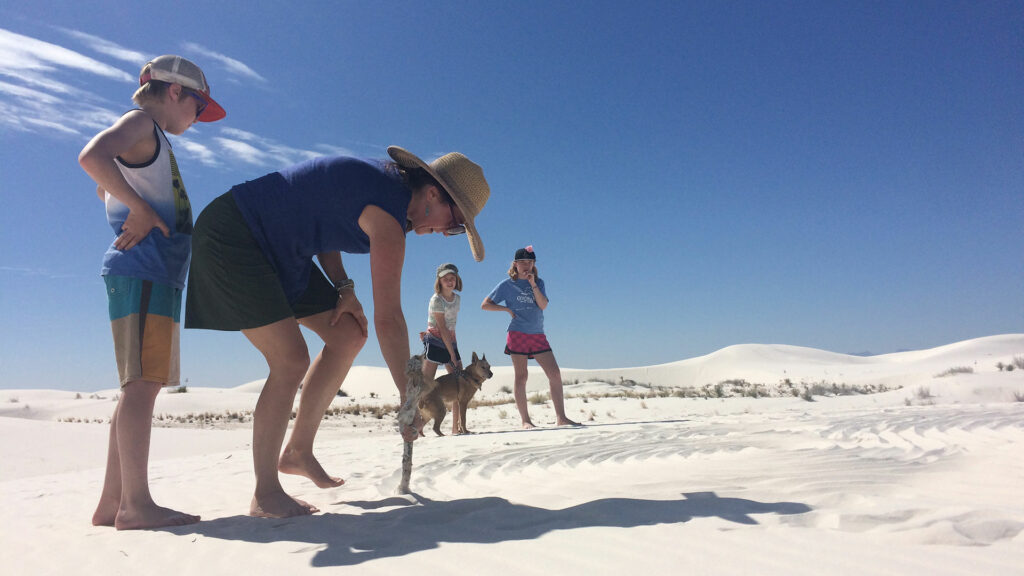 Places like gyms, community centers, playgrounds and many parks are now closed. Even though they provide essential opportunities for people to exercise, they're not set up to allow for social distancing, which is necessary to slow the spread of the virus and avoid overburdening health care systems.
The order doesn't mean you can't walk your dog, ride a bike, go stargazing, or head off onto a hiking trail. But now more than ever before, there are decisions to make before leaving the house. Those decisions affect not only your own personal safety, but those of others, too.
"The order does not mean that people can't go outside at all," said the governor's press secretary, Nora Meyers Sackett. "It's important for folks to get fresh air and stretch their legs, walk their dogs."
But even outside, people must maintain a distance of six feet from one another. And hikers and bikers shouldn't hang out in big groups.
"If you go somewhere to go outside and the parking lot is packed with folks, that is not social isolating," Meyers Sackett said. "So stay home."
She added that people need to stay off crowded or narrow trails. "If you were to go hiking on a trail that is narrow and would require you to get close to someone to pass them, the virus could be spread with that brief of a close encounter with someone," she said. "New Mexicans should stay home unless it is absolutely necessary."
But already, trails in the mountains around Santa Fe, in the foothills of the Sandias, and in the Organ Mountains outside Las Cruces are attracting crowds. In the Jemez Mountains, trailheads, hot springs, and some camping spots are becoming crowded—which puts people at risk of becoming sick. The U.S. Forest Service is grappling with how to address the problems. This week, the agency closed developed recreational sites.
"Our number one priority is public health and safety—and the safety of our employees," said Julie Anne Overton, with the Santa Fe National Forest. "People need to maintain that social distancing and not be congregating in groups larger than five."
She added that many of the forest ranger districts are also worried about the potential for trash to be piling up around the forest. "If people are going to go out into the forest, please—please!—follow 'leave no trace' principles," Overton said. "That's not just packing out to where there would normally be one of our trash receptacles, but actually taking it home with you."
If you do decide to head outside, there's even more to know to protect yourself as well as New Mexico's communities and natural and cultural resources.
Pueblo Lands: Over the weekend, the All Pueblo Council of Governors asked the public to steer clear of pueblo lands in order to protect their communities from the spread of COVID-19.
In a press release, the Council noted that federal land management agencies didn't consult pueblos before announcing that they were waiving entrance fees "to lend recreational social distancing spaces for members of the public." Concern quickly rippled across communities near federal sites like Kasha-Katuwe Tent Rocks National Monument.
"In Cochiti Pueblo, we have seen an overcrowding of recreationalists from outside our communities coming here and to surrounding areas to hike, and while we would otherwise welcome visitors to our lands, we are worried for the more vulnerable demographics of our community and the lack of resources to address this national health emergency," said Pueblo of Cochiti Governor Charles Naranjo. "Our elders, who are invaluable traditional knowledge keepers and beloved members of our community, are particularly susceptible to this virus and we must fulfill our responsibility to ensure their safety and well-being."
Navajo Nation: On March 11, the Navajo Nation Division of Natural Resources directed the tribe's Parks and Recreation Department to close all Navajo Nation Parks and Recreation Areas to public access. This includes places like Monument Valley, Four Corners Monument, Lake Powell Navajo Tribal Park, and Tseyi Heritage Center.
National Forests: On Monday, the five national forests in New Mexico started closing developed recreation sites including campgrounds, day-use sites, and public bathrooms at all national forest sites statewide. Trails are still open—so you can hike, bike, or ride horses where those activities are allowed. For example, you can't ride bikes in designated wilderness areas. To figure out which activities are allowed where, the Forest Service has an interactive map here.
That said, the Santa Fe National Forest has asked people to "recreate responsibly" and to avoid high-risk activities like rock-climbing. That's because law enforcement and search and rescue operations might be limited right now. With fire season approaching, it's also important to practice good campfire safety.
New Mexico State Parks: All state parks in New Mexico are closed until April 9, 2020. That applies to camping, special events, and visiting—and includes bodies of water like Navajo Lake State Park and Elephant Butte Lake. If you made a reservation to camp in a state park during that time and need a refund, you can call 1-877-664-7787. There's additional information on the state's website.
U.S. Bureau of Land Management: In New Mexico, all BLM visitors centers and public facilities are closed. As of now, BLM trails and open spaces are OK to use. On its website, the BLM urges visitors to "pack it in and pack it out" as "future trash pickup may be limited due to limited staff availability in some areas."
New Mexico's National Parks and Monuments: New Mexico hosts 18 national parks and monuments. They all have closed their visitors centers, museums, campgrounds, and bookstores, but there are different types of access at individual locations.
Most of Bandelier National Monument, for example, is closed to the public. And at Capulin Volcano National Monument, Volcano Road is closed, but trails are still open during daylight hours.
You can check out the individual park and monument websites here.
Ski areas: All the ski areas in New Mexico are closed. Also, according to a message on Ski Santa Fe's website, "Ski Santa Fe is requesting that skiers, hikers and others NOT recreate within the permit area of Ski Santa Fe. As with all non-essential businesses in New Mexico we are closed and ask our community to stay home."
Fishing: On Tuesday, the New Mexico Department of Game and Fish sent out an email, encouraging anglers to "stay home, mend equipment and prepare for the upcoming fishing season." In their email, agency officials noted, "Social distancing is a challenge for all anglers; the itch to go fishing just keeps growing. But this is a time for all New Mexicans to pull together for the overall health of all our citizens and stay home. The department reminds anglers it is their responsibility to be aware of closures and contact land managers for properties of interest when restrictions are lifted."
There are some other things to keep in mind, too:
-If you're going out hiking or biking, make sure a friend or family member knows where you're going and when you'll be back. Leave a note or drop a text.
-Don't put yourself in risky situations—not just for your own safety, but also because rescue workers are already overwhelmed. The last place you want to end up is in a hospital.
-Don't undertake activities you're not comfortable doing in the best of times. Right now, for example, probably isn't the best time to tackle some monster hike you've been mulling for years. And if you're not prepared for solo hiking, this isn't the time to try it out.
-Stick close to home. Don't undertake a big family trip or trek to a distant spot. There are reports of communities like Moab, UT and Joshua Tree, CA being swarmed with visitors—who locals fear will spread the coronavirus and potentially overwhelm local clinics and hospitals. As Jessica Kurtz wrote in a recent story for High Country News, "In Moab and other tourist-based towns , the message that their backyards are still open to out-of-town visitors is making both residents and park employees fear that their communities and workplaces could become the next COVID-19 hotspot."
-Even though most people have the best of intentions, some people will take advantage of low staff numbers to destroy archaeological resources or sacred sites, drive recreational vehicles in places where they're not allowed, dump trash, or act in otherwise irresponsible ways. Don't be that person. While you shouldn't put yourself at risk confronting looters or violators, do report any illegal activities.
-Be a good steward of our landscapes. Don't just pack out your trash. Bring along an extra trash bag and gloves to pick up what someone else might have left behind.
-Park only in designated spaces and don't block gates, driveways and necessary access for emergency vehicles.
-Keep dogs on leashes and pick up their waste.
-Read more at the state's Covid-19 page, and the page for isolation guidance.
We've asked New Mexicans on Twitter to report what they're seeing on the hiking trails and bike paths. You can read those responses and add your own here.