Airs Friday December 6, at 9:00 pm on Ch. 5.1
---
Chris Eyre
In the first of a two-part interview, film director Chris Eyre, winner of the Sundance Filmmakers Trophy and Audience Award, and winner of Best Film at the American Indian Film Festival, shares his inspiration and creative vision.
"Most of all, I just try to bring humanity to the characters."
---
John Wilson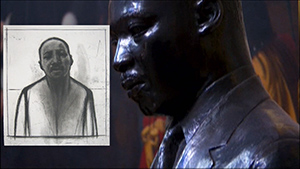 Noted sculptor, painter, and printmaker John Wilson is best known for his powerful portraits of African American men. He spent many years portraying Martin Luther King Jr.
"He was a man who had ideas about the world that he was trying to make other people feel and understand."
---
Mel Brooks
From American Masters, "Mel Brooks: Make a Noise," we get a glimpse at the funny man's childhood.
"'We're rich! We're rich! Where did you get them?' She said, 'Melvin, they're not diamonds. They're a thing called rhinestones.'"
---
Architects of Air
Created by the Architects of Air, a luminarium transports visitors into an exciting new world of space and light.
"The shapes come from inspiration from nature, from plants, soap bubbles; some of the inspiration comes from the bazaars of Iran."