State Grapples With Nonexistent PFAS Limits as Utility Says Positive Tests Date to 2019
Laura Paskus
February 14, 2020
In a letter customers received over the weekend, EPCOR, the private utility that runs the city's water system, said it recently found low levels of PFAS, or per- and polyfluoroalkyl substances, in some of its intake wells. The utility said it shut down the affected wells.
The human-made chemicals are associated with cancer and myriad health problems, and are known as "forever" chemicals because they bioaccumulate and persist within the body.
EPCOR's announcement heightened anxiety over how New Mexico can regulate and control the toxic contaminants at a time when the state and the U.S. Department of Defense are embroiled in lawsuits over PFAS cleanup at Cannon and Holloman Air Force bases. Federal efforts to create regulatory limits for the chemicals have stalled, leaving New Mexico without needed authority and relying upon the goodwill of utilities like EPCOR that are voluntarily testing their wells.
New Mexico Sen. Tom Udall said on Friday he was "incredibly concerned" about EPCOR's discovery, which NMPBS learned was actually made last summer.
Maps produced by EPCOR and obtained by NMPBS show that wells tested positive for the toxic substances as far back as the summer and fall of 2019, although customers weren't notified until this month.
"Our communication plan was timely, and our communication has been transparent and above the table," said John Calkins, EPCOR's environmental compliance director. He explained that lab turnaround times are 30-45 days, and positive results require a verification process that includes retesting. "Currently, there is not a national drinking water standard for any PFAS," he said. "We are doing this strictly voluntarily because we think it's the right thing to do."
When the EPA sets regulatory limits on contaminants—as it does for substances such as lead, arsenic and uranium—states can impose requirements on public drinking water systems. "On the flip side of that, where we have emerging contaminants that have not yet had the regulatory process play out, we don't have a maximum level that is regulated for these systems," said Rebecca Roose, director of NMED's Water Protection Division.
New Mexico state Sens. Pat Woods, R-Broadview, and Stuart Ingle, R-Portales, introduced a bill that would provide NMED with $700,000 to test wells in Curry and Roosevelt counties for PFAS. With the legislative session entering its final week, the senators' best hope for funding was to insert the language of their bill into the Senate's version of the final budget. As of Friday, the money had not been placed in the spending bill.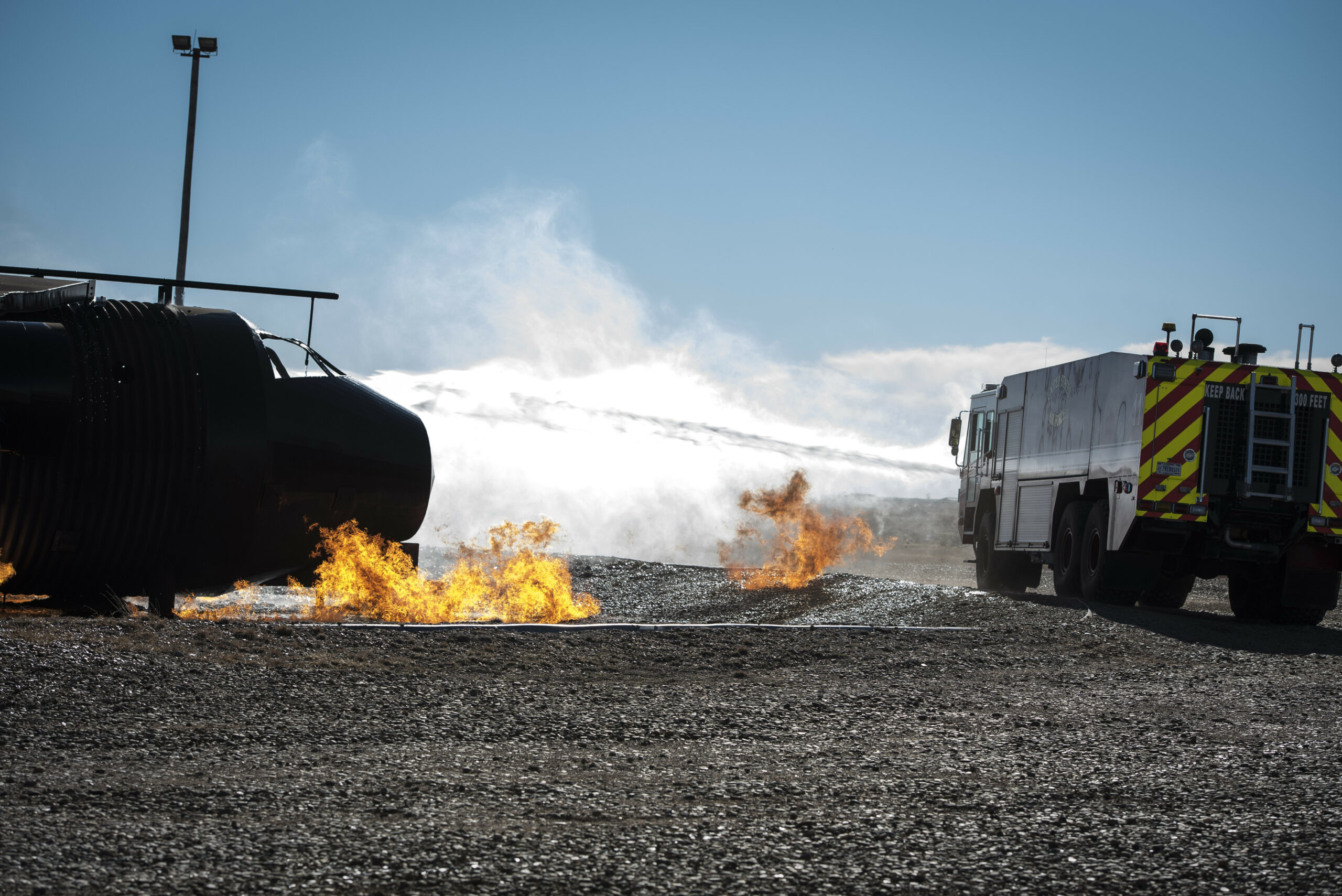 Clovis city water tests find toxic 'forever chemicals' linked to Cannon Air Force Base
With the announcement of the PFAS discovery in Clovis, members of New Mexico's federal delegation increased pressure on the Pentagon. In a Feb. 10 letter, Sens. Udall and Martin Heinrich, as well as Rep. Ben Ray Luján, asked the U.S. Department of Defense to contribute funding toward mapping the extent of the plume from Cannon, and to "immediately open up all lines of communication" with state agencies, despite the ongoing litigation between the military and the state over PFAS contamination at Cannon and Holloman Air Force Base near Alamogordo.
Air Force tests showed levels of PFAS up to 1,294,000 parts per trillion—more than 27,000 times the advisory level—in waters below Holloman. One part per trillion is often related as a single drop of water in an Olympic-sized swimming pool. In the case of the most egregious Holloman sample, that single drop of PFAS toxin swells to more than 17 gallons.
In their letter, Udall, Heinrich and Luján noted that in the months after PFAS were found at Cannon and in agricultural and private wells, the Defense Department "took limited action." They said military officials "maintained that they were charged only with mitigating contamination to drinking water for human consumption."
The congressional letter continued, "The appearance of these chemicals in these wells [in Clovis] is a significant—and very unfortunate—development, particularly since the City of Clovis will likely need to rely on these wells later in the year to meet seasonal demands."
The Pentagon has yet to respond to the letter, according to Udall's office.
"While families, business owners, farmers, servicemembers and communities continue to face major financial costs and health risks from exposure to these hazardous chemicals in New Mexico, federal agencies have dragged their feet, unwilling to offer real compensation or a plan to clean up contamination, even when the pollution comes from federal facilities like military bases," Udall said in a statement to NMPBS. "We need action from the Defense Department leadership to protect our state's precious water supplies before this becomes an even bigger problem and to provide the cleanup and financial relief that communities in New Mexico and across the country deserve."
If you've been affected by PFAS contamination in your community, call our tip line at (505) 433-7242.