Programs Celebrating and Empowering Women
A New Podcast with Megan Kamerick Premiering June 30th
What did women's sufferage look like in New Mexico? Journalist Megan Kamerick dives into the past in this new podcast featuring a lineup of noteworthy guests. Listen on iTunes, Spotify, or wherever you get your podcasts!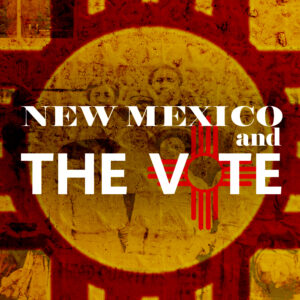 The Vote: American Experience
Part 1: Monday, July 6 and Part 2: Tuesday, July 7 at 8 p.m. on air & streaming
One hundred years after the passage of the 19th Amendment, The Vote tells the dramatic culmination story of the hard-fought campaign waged by American women for the right to vote, a transformative cultural and political movement that resulted in the largest expansion of voting rights in U.S. history.
American Masters "Mae West: Dirty Blonde"
Tuesday, June 16 at 7 p.m. on air & streaming
Dive into the life and career of groundbreaking writer, performer and subversive star Mae West. Over a career spanning eight decades, she broke boundaries and possessed creative and economic powers unheard of for a female entertainer in the 1930s.
Wednesday, June 17 at 9 p.m. on air & streaming
Join Emily Graslie for a summer road trip through America's dinosaur country on a search for mysterious creatures and bizarre ecosystems that have shaped Earth.
Friday, June 19 at 9 p.m. on air & streaming
Enjoy a powerful and revealing look at legendary, larger-than-life Texas governor Ann Richards who enriched the lives of her followers, friends and family in this critically acclaimed play written by and starring Emmy Award-winner Holland Taylor.
Lucy Worsley's Royal Myths & Secrets
Sunday, June 21 at 7 p.m. on air & streaming
Join Lucy Worsley on a journey across Europe to visit the incredible locations where royal history was made. From the Spanish Armada to the French Revolution, learn how royal history is a mixture of facts, exaggeration, manipulation and mythology.
Toni Morrison: The Pieces I Am
Tuesday, June 23 at 7 p.m. on air & streaming
Toni Morrison leads an assembly of her peers and critics on an exploration of the powerful themes she confronted throughout her literary career in this artful and intimate meditation that examines the life and work of the legendary storyteller.
Great Performances: "Gloria: A Life"
Friday, June 26 at 9 p.m. on air & streaming
Experience a unique interpretation of feminist icon Gloria Steinem's life told by an all-female cast starring Emmy Award winner Christine Lahti and directed by Tony Award winner Diane Paulus.
POV "And She Could Be Next"
Monday, June 29 at 8 p.m. on air & streaming
And She Could Be Next follows a defiant movement of women of color as they transform politics from the ground up. Filmed during the historic 2018 midterm elections, the series features organizers and candidates (including Rashida Tlaib and Stacey Abrams) as they fight for a truly reflective government, asking whether democracy can be preserved—and made stronger—by those most marginalized
Antiques Roadshow "Women's Work"
Monday, July 6 at 7 p.m. on air & streaming
Celebrate trailblazing women in a special hour spotlighting outstanding contributions from female athletes, artists, activists and more who left an indelible mark on the world around us through their thought-provoking objects and accomplishments.
Monday, July 6 at 10 p.m. on air & streaming
Warrior Women is the untold story of American Indian Movement activists who fought for civil rights in the 1970s, and the children who served as their inspiration and their cohorts. The film is anchored by one of the Red Power Movement's most outspoken Lakota leaders, Madonna Thunder Hawk, and her daughter Marcy Gilbert.
Daring Women Doctors: Physicians in the 19th Century
Tuesday, July 7 at 10 p.m. on air & streaming
Meet the pioneering and diverse women who faced hostility and resistance in their pursuit of medical educations. This documentary examines how these women physicians greatly impacted their communities. It also demonstrates how women doctors exerted a long-lasting influence on the movement towards women's rights.
Unlady like 2020: American Masters
Friday, July 10 at 10 p.m. on air & streaming
Explore the stories of the pioneering women in American politics who advocated for suffrage and civil rights over 100 years ago, including the first women in the U.S. Congress and State Senate, and a co-founder of the NAACP.