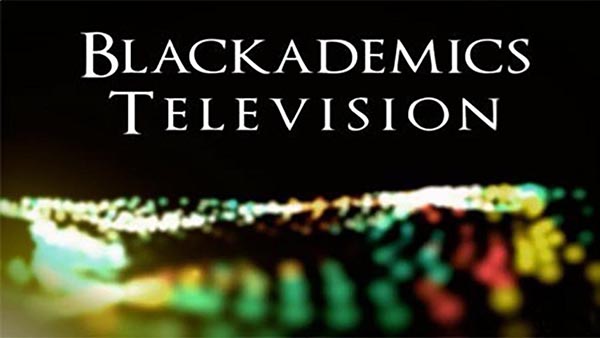 Blackademics Television 400s
FEED DATE / SCHEDULE:
Fridays
October 7 & October 28, 2016
1300 – 1330 ET
HD05
Photos are for editorial use only in conjunction with the direct publicity or promotion of this program, for a period of three years from the program's original program offer date, unless otherwise noted. No other rights are granted. All rights reserved. -- All images are .jpgs unless indicated.
Rights: 
Unlimited releases for  3 years beginning October 7, 2016. Non-commercial cable right same; school, unlimited for 3 years
Suggested Scheduling:  Public Affairs or Educational blocks, Holidays, MLK weekend, Black History Month, Juneteenth holiday
Description:
Top Black Studies scholars, activists and community leaders share projects and research focused on education, performance and youth empowerment.
Individual Program Descriptions:
401 Ulmer / Wests / Smiths
BLDM000401 (25;36)
Young entrepreneurs from around the United States inspire with their business successes and community engagement. Young scholars explain the essence of the Juneteenth holiday.
402 Glover / Thompson
BLDM000402 (25;37)
An African American High School student talks about challenges and successes in the advanced placement classroom. A music instructor talks about youth empowerment through song.
403 Tyson / Gilbarg
BLDM000403 (26;23)
A passionate Austin middle school student orator discusses "Opportunity Avenue." An advocate for youth empowerment teaches music and video production to inspire and educate.
404 Blakes / Robinson 
BLDM000404 (25;29)
One experienced educator and youth advocate discusses the role of spirituality in the lives of a group of African American girls in the Los Angeles area. Another revives Black Leadership camps and activities to inspire youth.
# of Episodes/Length:
4/30 min episodes
Producer:  KLRU & ICUSP (Institute for Community, University and School Partnerships)
Nature of Producing Organization: PTV, not-for-profit educational outreach organization
Production Funding:  KLRU Producers Circle, African & African Diaspora Studies Department at The University of Texas at Austin
Presenting Station/Group: KLRU
Broadcast History: Premiere 400 series
Underwriting Language: "Support for this production comes from the African & African Diaspora Studies Department at The University of Texas at Austin, which includes opportunities for students seeking a PhD. Support for this and other KLRU productions made possible by the Producers Circle, ensuring local programming that reflects the character and interests of the greater Austin, Texas community."
Local Underwriting Cleared: Yes
Stereo:  Yes
Closed Captioned:  Yes
Suggested Rating: G
Tag Language: 
No Tag
Videos Available: No
Promotional Material:
20 and 30 second promo available at link:
https://drive.google.com/open?id=0BxIKCYKWzA9KYzE4aGRSTUlrMG8
Online screeners:
401 https://youtu.be/NlpvVE2zEjQ
402 https://youtu.be/l8PtBeM7Cw8
403 https://youtu.be/wjDToqym7E8
404 https://youtu.be/RLlTj0w5nFI
You can watch older episodes online at http://video.klru.tv/show/blackademics-tv/
Cost / Conditions :  Free upon notification of intent to carry.