New Mexico Election Coverage 2022
NMPBS is dedicated to bringing you objective and informative political coverage leading up to the November election.
On this page, you'll find all of our pertinent political coverage, resources and information about voting, as well as a new community-powered journalism project to answer any questions you might have about the election process.
The 2022 Midterm elections are on the horizon. Do you know how to vote, and where to vote, and what you might need to have when you show up to the polls? This project is part of the work of America Amplified, an initiative funded by the Corporation for Public Broadcasting to support community engagement journalism in public media. We're not concerned about how you vote, or who you vote for, we just want to make sure you are armed with the information you need.
With help from our partners at America Amplified, we'll answer the questions online, on the air and on social media.  We'll send the answers directly to you as well.  If you share your contact information, we may even reach out personally. We can't do this without you!  
Stay up to date with everything happening in New Mexico.
NMPBS Election Night 2022: Live on Channel 5.4 from 8 p.m.- 9 p.m.
Coverage begins at 8 p.m. when Gene Grant speaks with longtime NMPBS political contributors Dede Feldman, Dan Foley, Diane Snyder and Martha Burke. NMiF Correspondents Antonia Gonzales and Gwyneth Doland will also join Gene in the studio to talk about their series of Candidate Conversations and how those candidates approached certain key issues during the campaign. Then, Gene will speak with reporters from around the state about specific races and issues sure to impact New Mexicans once the final votes are counted.
Coverage will be streaming simultaneously on the NMiF Facebook and YouTube pages and will continue beyond 9 p.m. 
Your New Mexico 2022 Midterm Election Questions Answered!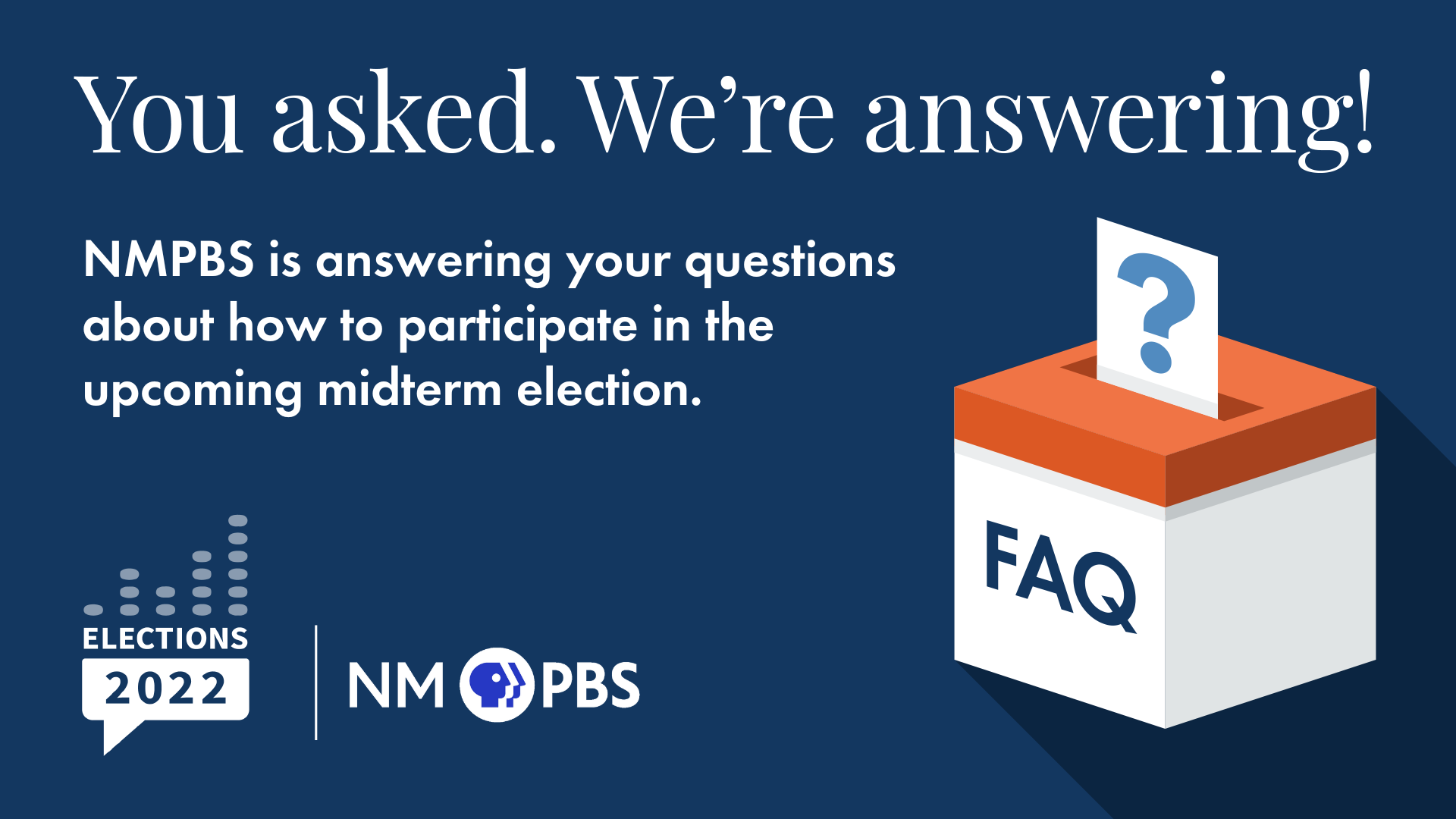 KUNM and New Mexico PBS have partnered with America Amplified to answer questions about how to participate in the special and midterm elections. Here are some of the top questions from New Mexicans we have been able to answer thus far.
Do you have a question we haven't answered yet? Submit your questions at the top of this page or by texting "New Mexico PBS" or "KUNM" to 855-670-1777.
​​Frequently Asked Questions About The Midterm Elections:
When is the election?
The Midterm Election is Tuesday, November 8th. The polls open at 7 a.m. and close at 7 p.m. You can vote early in person beginning the 28th day before the election until the Saturday before the election. Look up early voting locations or call your county clerk for locations and dates and hours of operation.
What's on my ballot?
You can check on your registration status, find out where to vote, and access a sample ballot by filling in information at the state's Voter Portal.
What do I need to take with me to the polls?
You do not have to present identification to vote in a statewide election. When registering for the first time in New Mexico, you must submit a copy of (1) a current and valid photo identification; or (2) a current utility bill, bank statement, government check, paycheck, student identification card or other government document, including identification issued by an Indian nation, tribe or pueblo that shows your name and current address. If you do not submit the required identification with your mailed-in, first time registration, then you will be required to present one of the forms of identification when voting in person or absentee.
Some municipal jurisdictions in New Mexico have ordinances in place that require voter id be presented to vote in city elections. This includes the City of Rio Rancho.
Does a person's residential address on a driver's license or state ID have to match with the district in where they are supposed to complete a vote ballot?
Yes, you should register to vote with your residence address and will be asked to provide proof of address — like ID or water bill — when you register. If you've already registered, you don't need to provide identification to vote. Instead you'll just be asked to provide your registration address verbally.
When am I going to get my mail in ballot?
Ballots were sent out 23 days before the election, or by October 17. For more information on early and absentee voting in New Mexico, visit the Secretary of State's website.
My husband and I very much want to be informed voters, but we are having a hard time finding a sample ballot. We are in Bernalillo county.
To look up a sample ballot, log in with your voter information on the New Mexico Secretary of State Voter Services website.
Can anyone still apply for an absentee ballot in the 2022 elections? If so, what are the deadlines?
You can request an absentee ballot through the state's website or your county registrar through Nov. 3, 2022. To apply for an absentee ballot, visit NMVote.org. The ballots need to be returned by 7 p.m. on Election Day, Nov. 8. You can learn more on the Secretary of State's Absentee and Early Voting section of the website.
What is the status of dropboxes for returning absentee ballots?
We are slated to have more stories on dropboxes soon, but you can also check out this coverage from our media partner, Source New Mexico.
I answered (Yes) to an email several weeks ago asking for poll workers, pretty sure it was a local Bernalillo Co or NM state source. But I never heard back!! I am still interested...
Your question sparked a plan to work on a story about the different ways people can be involved in the upcoming election. But in the meantime, we would recommend you reach back out to your local election office about how to get involved.
Does Gabe Vasquez, the Democratic candidate in Congressional District 2, support law enforcement? Supporters of Republican Incumbent Yvette Harrell says Vasquez wants to "deconstruct" law enforcement – what is Vasquez' stance regarding the police?
We reported a story out in response to this question. For background, Vasquez is running in a competitive race in the southern part of New Mexico, against a Republican incumbent, Herrell, who has made support for the police a cornerstone of her campaign. There is some evidence that Vasquez has made statements in the past in favor of "defunding the police," but, when KUNM contacted Vasquez's campaign asking for comment on his stance on police, he said via email, "I oppose defunding the police". He said that during his time on the City Council at Las Cruces he voted to pass three budgets, each of which included an increase in police funding.
This post will be updated as we continue to get questions, and find answers!
On-Going Election Coverage
Results From Other State Races - 11.11.2022
Results of the Congressional Races - 11.11.2022
Governor's Election Results - 11.11.2022
Analyzing NM State Races - 11.4.2022
Congressional Races - 11.4.2022
Securing the 2022 Election in New Mexico - 11.4.2022
Candidate Conversations: Democratic Incumbent for Gov. Michelle Lujan Grisham - 11.4.2022
Candidate Conversations: Democratic Challenger for CD3, Gabe Vasquez - 11.4.2022
Election Misinformation - 10.28.2022
Candidate Conversations: Democratic Incumbent for CD1, Rep. Melanie Stansbury - 10.28.2022
Candidate Conversations: Democratic Incumbent for CD3 Rep. Teresa Leger Fernandez - 10.28.2022
Candidate Conversations: Republican Challenger for CD3, Alexis Martinez Johnson - 10.28.2022
Attorney General's Race & Pretrial Detention - 10.21.2022
Navajo Nation Presidential Race: Pres. Jonathan Nez - 10.21.2022
Navajo Nation Presidential Race: Dr. Buu Nygren - 10.21.2022
NM Senator Questions Long-term Fiscal Implications of Constitutional Amendment 1 - 10.14.2022
Incentivizing Bipartisan Collaboration in Goverment - 10.14.2022
Redistricting Report Reveals Public Desire for Independent Commission - 10.7.2022
Governor's Debate Reaction & Looking Ahead in the Race - 10.7.2022
Black Voters Collaborative Working to Boost Voter Turnout - 9.30.2022
Secretary of State's Race - 9.30.2022
Teacher Perspective on Constitutional Amendment 1 - 9.30.2022
Yazzie Martinez Lawsuit and Constitutional Amendment 1 - 9.30.2022
Ronchetti Calls for Referendum on Abortion - 9.23.2022
New Polling Ahead of Election - 9.2.2022
Debating Media Access in Politics - 8.26.2022
Understanding Alcohol's Impacts in NM - 8.9.2022
Threats Against Election Workers - 8.12.2022
Ethics Commission Effectiveness - 7.29.2022
New Ballot Proposal to Boost Education - 7.15.2022
Impact of Abortion on NM Gov. Race - 7.15.2022
NM Secretary of State Addresses Otero Co. Saga - 6.24.2022
Otero County Chaos & Local Primary Results - 6.17.2022
General Election Preview - 6.9.2022
Primary Election Analysis - 6.9.2022
Primary Election Assessment with Common Cause New Mexico - 6.9.2022
New Mexico Budget Surplus - 5.20.2022