Meet our 2018 New Mexico PBS Digital Innovators: Rachel Thomas and Steven Lamb.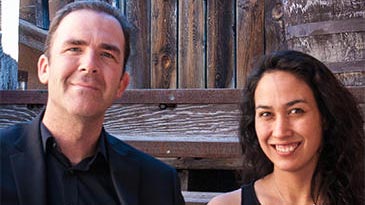 PBS Digital Innovators set the bar for thoughtful tech integration in the classroom. These PreK-12 educators are not defined by the gadgets they use, but by the unique way they approach education. Their bold and enthusiastic perspective sets them apart as changemakers, and unlocks new worlds for their students.
Rachel and Steven used readily available technology to allow their students to share interests and work together on projects from different school locations and grade levels. The result of their efforts was the creation of cross-district collaboration and a learning environment that is rewarding and beneficial to students and teachers.
Rachel Thomas is from the Bilagáana Clan and born for the Tsi'naajinii Clan of the Navajo Nation and a National Board Certified Teacher.
She teaches at Zuni Elementary in Albuquerque.
A former local business owner, Steven Lamb is a TIG/APS Education Foundation Innovation Award winner. He teaches at North Star Elementary in Albuquerque.
It is through their love of teaching and their desire to help students and teachers leverage technology to improve communication, that brought the pair and their students together.
Fun Fact: The Virtual Team teaching method has allowed Rachel and Steven to seamlessly connect with students from across the globe including Jamaican high school students and Malaysian college students.
Follow Rachel and Steven on Twitter, @collabgenius