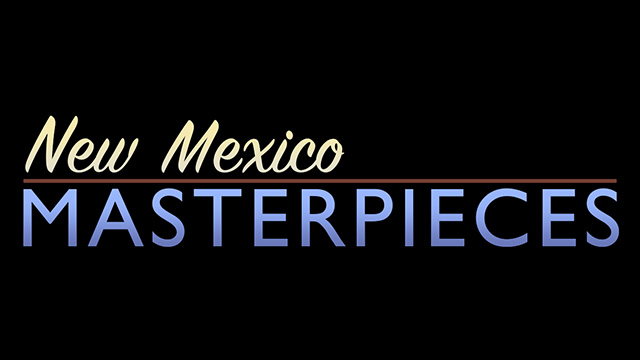 From stone, to canvas, to words on a page, for centuries New Mexico has served as an inspiration to artists. The New Mexico PBS original production, NEW MEXICO MASTERPIECES features some of the Land of Enchantment's most enduring, pivotal, provocative, and beautiful artworks.
This one-hour special tells the stories behind Chaco Canyon's Pueblo Bonito, Georgia O'Keeffe's Grey Cross with Blue, John Nichols' The Milagro Beanfield War and more.
"I have always been intrigued by the way different people perceive our world and how stories are refracted through direct experience," said Tara Walch, Producer. "Artists often devote a lifetime to expressing their experience, being as honest and clear about it as they can. I find their artistic journey taps into a larger story of shared experience. NEW MEXICO MASTERPIECES honors this journey."
"It's important to take a moment and stop and understand our history, its significance and how it's connected to so many cultures," explains Michael Kamins, Executive Producer. "These artworks reach out to us. Through them we learn about how profound New Mexico really is. NEW MEXICO MASTERPIECES is just a start. There are so many more great artworks to share and stories to tell."
Program Segments:
Painter Georgia O'Keeffe's First Visit To New Mexico In 1929 Forever Changed Her Life. (Taos/Santa Fe)
Taos Landscape Painter Victor Higgins' Somber and Beautiful Painting Winter Funeral Captures A Moment In The History Of Taos Valley.
Taos Painter Ernest Blumenschein's Beautiful and Complex Star Road And White Sun, Provokes A New Dialouge.
After Nine Years of Tremendous Effort, Frederico Vigil Completed One of New Mexico's Great Artworks, The Torreón Fresco, "Mundos De Mestizaje." (Albuquerque)
Timeless, Loving… The Milagro Beanfield War Captured Hearts Around The World Through Mixing Culture, Social Justice, and Humor. Author John Nichols Shares His Inspiration For The Story. (Taos)
Native American Artist T.C. Cannon Kick Started A Movement. His Vibrant Work Collector #5 Captures The Heart of a Revolutionary Time, and an Artist Who Combined Traditional Culture and Living in the Modern World. (Santa Fe)
Renowned Filmmaker, Godfrey Reggio, Created the Internationally Acclaimed Film Koyaaniqatsi. (Santa Fe)
Hidden By Time and Its' Remote Location, Deep In Chaco Canyon Sits Pueblo Bonito, One Of New Mexico's Greatest Works of Architecture.
an Original Production
Available to New Mexico PBS Passport Members to stream on PBS Video
Grey Cross with Blue, 1929
Georgia O'Keeffe
Oil on Canvas
36×24
Albuquerque Museum, Museum Purchase, 1983 and 1985 General Obligation Bonds; Albuquerque Museum Foundation; Ovenwest Corporation; Frederick R. Weisman Foundation [1985] (85.50.1
© Georgia O'Keeffe Museum
CR671
Star Road and White Sun, 1920
Ernest L. Blumenschein
Collector #5, 1975
T.C. Cannon
Image Courtesy of Joyce Cannon Yi
Koyaanisqatsi
Godfrey Reggio
Winter Funeral, 1932
Victor Higgins
The Milagro Beanfield War
John Nichols