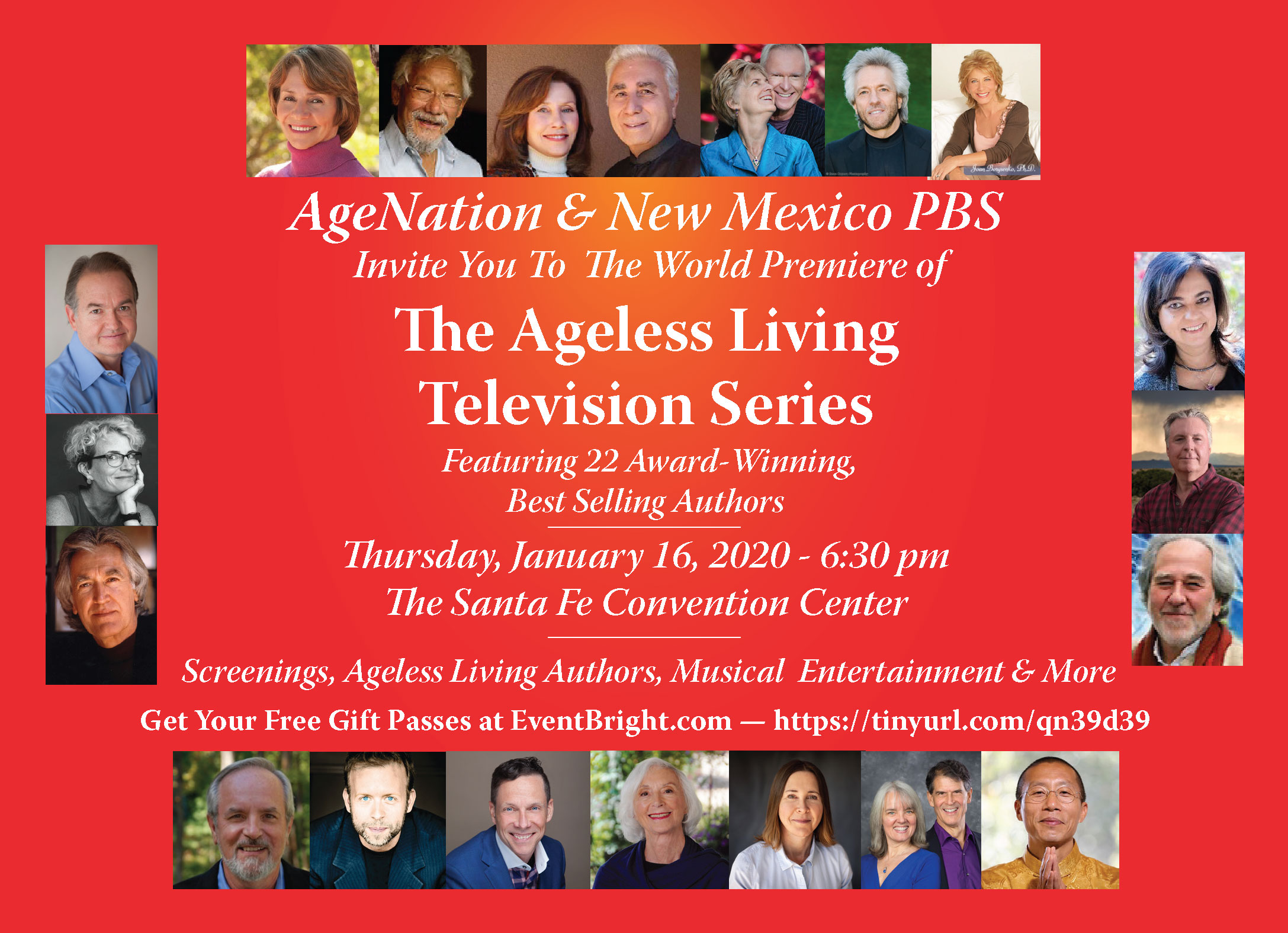 AgeNation & NMPBS Present a FREE Premiere Screening Event of the Forthcoming Series -- AGELESS LIVING
Thursday, January 16 at 6:30 p.m.
Santa Fe Community Convention Center
201 W Marcy St, Santa Fe, NM
Doors open at 6:00 p.m.
This special event is FREE and open to the public, but a guest ticket is required.
Come see a special preview of the series filmed in Albuquerque and Santa Fe, hosted by George and Sedena Cappanelli, including never-before-seen excerpts.
The evening will also include live music by world musician Madi Sato. Several speakers featured in the series are expected to attend.
AGELESS LIVING will premiere on NMPBS Ch. 5.1, Saturdays at 4:30 p.m., beginning January 25, 2020.
The series includes episodes featuring 22 award-winning, best-selling authors and experts in their field – many of whom are multi-NY Times best sellers. Among the authors included are: David Suzuki, Lynne Twist, Gregg Braden, Bruce Lipton, Thomas Moore, Joan Borysenko, John Gray, Dr. Larry Dossey, Dr. Eben Alexander, Anita Moorjani, Barbara Marx Hubbard and more.
For a complete list and bios visit agelesslivingseries.com
George and Sedena Cappannelli, Co-Producers of the AGELESS LIVING Series and Co-Founders of AgeNation, a Santa Fe-based company, explain that these programs will inspire, inform and empower New Mexicans and potential national PBS audiences, as well as representing New Mexico as a thought-leader.
In addition to allowing the producers to share the excitement of this upcoming locally-produced series with the New Mexico community, this special screening event thanks the many organizations and individuals around the state who have supported the birth of this breakthrough series. It also thanks the audiences who attended the live conferences taped at the KiMo Theater and The Lensic Performing Arts Center in 2018.
Funding for AGELESS LIVING was made possible in part by the support of the following organizations and individuals: Haverland Carter Neighborhood Foundation, Empower New Mexico, Tourism Santa Fe, Heritage Hotels and Resorts, Nissan USA, Mountain Region Division, The Thomas L. Eddington Trust, Mrs. Claire Pfister, and a host of other Community Partners and Private Donors. Thank you.