What it's like to be a Radio Frequency Engineer at NMPBS?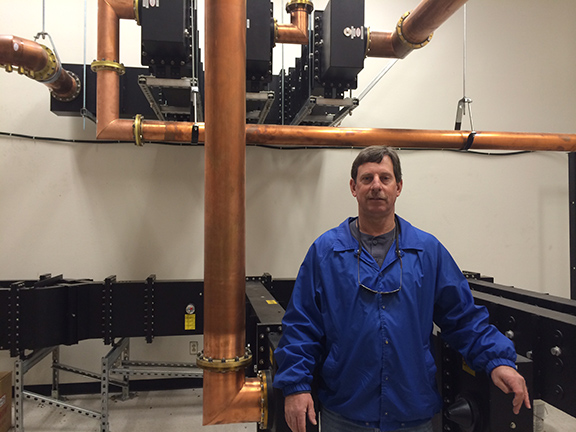 If only it were as simple as pushing a few buttons to keep New Mexico PBS (NMPBS) on air. Unfortunately, it's not that easy. It takes the brawn and brains of engineers—three at NMPBS—to keep the signal running properly.
The job of these radio frequency (RF) engineers never ends and it can be rather tricky if you consider they sometimes have to climb towers 40 to 180 feet tall on any given day in all sorts of weather, miles away from home.
Manager of RF Transmissions Dan Zillich, who has been at the station for 20 years, shares what it's like to be an engineer at NMPBS and maintain 32 sites across northern New Mexico to help quality, educational programming reach 1.7 million New Mexicans.
What are your primary duties? What about those of your team?
To keep us on air by repairing and maintaining the transmitters and translators. (A transmitter is where our signal originates. It's very high powered. Translators receive our signal, clean it up and retransmit it to another channel at a low power—that extends our reach). We get called out to the field by viewers. We verify it and we drive to sites to diagnose the problems, and make necessary repairs on sites. We get called mostly if the picture is pixelating or if it's off air. Occasionally, we make house calls to outlying areas to help our viewers.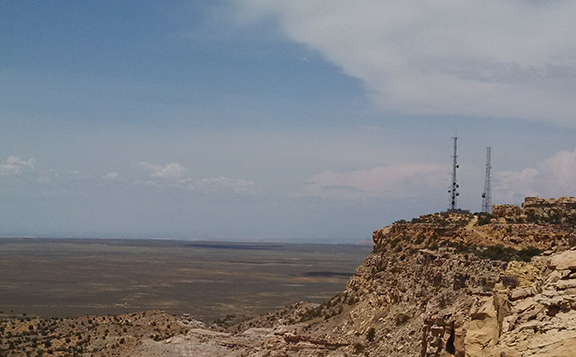 What's a typical day for all of you?
Everyday is different. We don't know if we'll be on the road, in the shop or on the crest. We keep projects moving like upgrades for the sites and the facilities.
What might viewers be surprised to know about the inner workings of NMPBS & your job?
They'd be surprised about how much work it takes to maintain our translator system when it's a five-hour drive to many of these translators. I think the public thinks that most of equipment can fix themselves and that we can just push a button, but we actually have to scale mountaintops to fix them.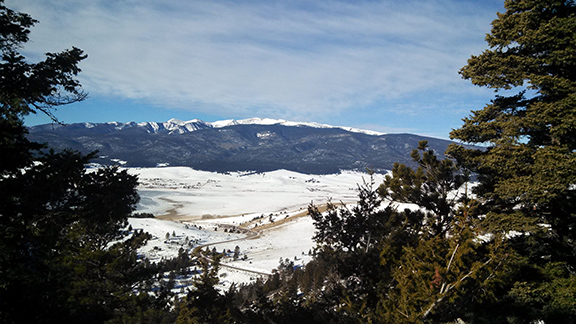 Tell us some memorable moments?
We have a site by Eagle Nest. One winter we were called out for the signal being down. We used a snow-cat to get into the site and upon arrival we noticed the antenna was lying on its side and the cable was broken. We turned all the other stations off so we could climb the tower to make repairs until we were able to replace the damaged antenna and cable. The tower is 70 feet tall and the mountain is 11,000 ft. It was snowy, windy, yes.
About five years ago, the day after Christmas, I had to go out to Los Alamos and ride the ski lift to the top mountain and snowshoe ½ a mile to the site, make repairs, which was the air conditioners, and snowshoe back to find that the ski lift was broken. I called the site manager and he had to pick me up in a snowmobile.
What's the most difficult assignment your team has had over the years? What made it difficult?
There are so many. Probably learning digital TV and all of the specifications and functions of that. It was a new technology. We had to learn it from scratch. There weren't any books or much on it. We went to a lot of seminars and classes. And then did a lot of self-teaching and experimentation. We even did a couple of experiments for the FCC to help them learn how digital television transmission functioned.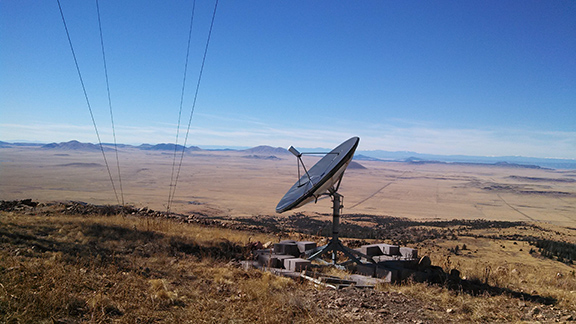 What keeps you passionate about your job? What's the best part?
The public. The gratitude of them calling up and saying that they have KNME in remote parts of New Mexico. Experiencing the views and the mountaintop work, too. The views are extraordinary and there's wildlife—antelope, deer, coyotes, and the occasional bear.
What were your experiences before coming to NMPBS, and how have they impacted your ability to do your job?
I've been here so long. My experiences before coming to NMPBS was working at local commercial stations and gaining experiences to help KNME. At the commercial stations I learned the transmission and translator technology, which gave me the knowledge that NMPBS has.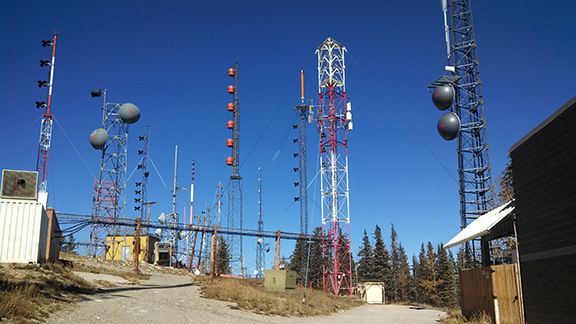 What are some lessons learned from your job and working at NMPBS?
There are so many. NMPBS was able to send me to transmitter schools to gain more knowledge about transmitters, which helped help NMPBS. Also, it's more rewarding helping the public receive the quality programming of NMPBS.
NMPBS recently expanded coverage to Shiprock. Can you tell us a little about this?
We partnered with the Navajo Nation to help them receive NMPBS signals so they can put it in their translator system. They have 5 translators. We built our translator in Shiprock in order to feed into their signal. I was able to build this translator system recycling previously used translator equipment thereby cutting our costs by 2/3. I was recognized for the cost savings, project completion and expanding our coverage. I was more passionate about my jobs because of the recognition.
The University of New Mexico awarded Zillich the Gerald W. May Outstanding Staff Award in December 2013. His efforts allowed the NMPBS signal to reach an additional 17,000 people.
What's the significance of reaching rural areas, including the Navajo Nation?
Due to the topography of New Mexico, reaching rural communities is often challenging. By expanding our signal into these areas we are able to bring good quality educational programming to those that need it.