In Commemoration of Memorial Day,
New Mexico PBS presents
Memorial Day / Veterans-Related Programs
Airing on: May 17 – 31
MEMORIAL DAY WEEKEND
MORMON TABERNACLE CHOIR SALUTES OUR ARMED FORCES – New!
Ch. 5.1 – Sunday, 5/27 at 2:00 pm
Ch. 9.1 – Monday, 5/28 at 8:30 pm

A 2011 concert special pays tribute to the men and women who have served the United States in times of war. Taped at Temple Square in Salt Lake City, this program intercuts selected performances by the world-renowned, 360-voice choir with inspirational video vignettes featuring veterans of World War II, Iraq and Afghanistan. In addition, accomplished Broadway performers Brian Stokes Mitchell and Linda Eder join in on several arrangements, including a stirring rendition of "Battle Hymn of the Republic." Other songs include: "America: The Dream Lives On," "Shenandoah," "Straighten Up and Fly Right," "When the Saints Go Marching In" and "Let There Be Peace on Earth."
BATAAN: A 70TH ANNIVERSARY COMMEMORATION
Ch. 5.1 – Sunday, 5/27 at 7:00 pm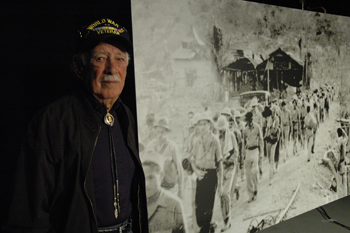 (A New Mexico PBS Production) – On December 15, 2011, honoring the 70th anniversary of the fall of Bataan and the subsequent death march, Senator Tom Udall (D-NM) proposed S .2004, legislation to grant the Congressional Gold Medal to the troops who defended Bataan during World War II. The next day, Congressman Martin Heinrich (D-NM) proposed its counterpart in the House of Representatives H.R. 3712. One inspiration for this action was the documentary TRAGEDY OF BATAAN. New Mexico PBS has produced a program with some of the NM survivors of the surrenders of Bataan and Corregidor and incorporating the original documentary TRAGEDY OF BATAAN.
NATIONAL MEMORIAL DAY CONCERT 2012 – New!
Ch. 5.1 – Sunday, 5/27 at 8:00 pm and again at 9:30 pm
Ch. 9.1 – Monday, 5/28 at 7:00 pm

Airing just hours after the concert is taped in Washington D.C.! – Join co-hosts Gary Sinise ("CSI: New York"-right) and Joe Mantegna ("Criminal Minds"-left) in a night of remembrance featuring an all-star line-up of dignitaries, actors and musical artists in performance with the National Symphony Orchestra. The 23rd annual broadcast airs live from the West Lawn of the U.S. Capitol before a concert audience of hundreds of thousands, millions more at home, and to our troops around the world on the American Forces Network.
INDEPENDENT LENS "Hell and Back Again" – New!
Ch. 5.1 – Monday, 5/28 at 9:00 pm

What does it mean to lead men in war? What does it mean to come home — injured physically and psychologically — and build a life anew? In the Academy Award-nominated film, "Hell and Back Again," two overlapping narratives are intercut — the life of a Marine at war on the front and the life of the same Marine in recovery at home — creating both a dreamlike quality and a strikingly realistic depiction of how Marines experience this war. U.S. Marine Sergeant Nathan Harris, 25, leads his unit to fight a ghostlike enemy in Afghanistan. Wounded in battle, Harris returns to North Carolina and his devoted wife to fight pain, addiction, and the terrifying normalcy of life at home.
VETERANS–RELATED PROGRAMS
VIETNAM WAR STORIES
Ch. 5.1 – Thursday, 5/17 at 7:00 pm

Three million Americans served in Southeast Asia during the Vietnam War. Most veterans are reluctant to speak of war experiences, but Vietnam veterans have been even more reluctant because of the controversy surrounding their war and the often hostile reception on their return. They put away their uniforms and tried to put away their memories, but these are memories that cannot be put away. "Vietnam War Stories" shares these personal memories of service and sacrifice, and gives us insight into the experience of war.
NOVA "Killer Subs In Pearl Harbor"
Ch. 5.1 – Wednesday, 5/23 at 8:00 pm and again Sunday 5/27 at 11:00 am
Ch. 9.1 – Saturday, 5/26 at 7:00 pm

NOVA joins an exclusive dive beneath the waters of Pearl Harbor to trace new clues to the historic sinking of the USS Arizona. 1,177 crewmembers perished in the dramatic 1941 sinking of the storied battleship — the greatest loss of life in United States naval history. For decades, it has been thought that the Arizona was brought down by fire from Japanese aircraft. But the discovery of a Japanese "midget sub" far from the scene of the battle raises new questions about the Arizona's final hours.
NOVA "Missing In MiG Alley"
Ch. 5.1 – Wednesday, 5/23 at 9:00 pm
Ch. 9.1 – Saturday, 5/26 at 6:00 pm

Russian and American fighters clashed over Korea in one of the fastest dogfights ever seen. This was the world's first jet war, pitting the two most advanced planes of their day, the American F-86 Sabre and the Soviet MiG-15, in furious air battles that pushed their pilots' skills to the limit. The epicenter of the air campaign was MiG Alley, a strip of airspace between the Korean-Chinese border. Follow the poignant, sometimes harrowing efforts of family members to learn the fate of pilots missing after dogfights over Korea.
INDEPENDENT LENS "Left by the Ship" – New!
Ch. 5.1 – Saturday, 5/26 at 10:00 pm
Ch. 9.1 – Thursday, 5/31 at 9:00 pm

JR, Charlene, Margarita and Robert are half American; they are among the many children born to U.S. servicemen who were stationed in military bases in the Philippines until 1992. Like most Filipino Amerasians, they were left behind by their biological fathers and largely forgotten. Over the course of two years, they delve into the psychological and social consequences of the U.S. military presence and its legacy.
THE WAR – Winner of Three Primetime Emmy Awards
Airing on KNMD, Ch. 9.1 In It's Entirety, Over Two Sundays-May 20 & 27
Sunday May 20: 2:00 – 11:00 pm & Sunday May 27: 4:00 – 10:30 pm
THE WAR, a seven-part documentary series directed and produced by Ken Burns and Lynn Novick, explores the history and horror of the Second World War from an American perspective, by following the fortunes of so-called ordinary men and women who become caught up in one of the greatest cataclysms in human history.
Six years in the making, this epic 15-hour film focuses on the stories of citizens from four geographically distributed American towns — Waterbury, Connecticut; Mobile, Alabama; Sacramento, California; and the tiny farming town of Luverne, Minnesota. These four communities stand in for – and could represent – any town in the United States that went through the war's four devastating years. Individuals from each community take the viewer through their own personal and quite often harrowing journeys into war, painting vivid portraits of how the war dramatically altered their lives and those of their neighbors, as well as the country they helped to save for generations to come.
Sunday, May 20
2:00 – 4:30 pm
WAR "A Necessary War" #101 (December 1941 – December 1942)
4:30 – 6:30 pm
WAR "When Things Get Tough" #102 – (January 1943 – December 1943)
6:30 – 8:30 pm
WAR "A Deadly Calling" #103 – (November 1943 -June 1944)
8:30 – 11:00 pm
WAR "Pride of Our Nation" #104 – (June 1944 – August 1944)
Sunday, May 27
4:00 – 6:00 pm
WAR "FUBAR" #105 – (September 1944 – December 1944)
6:00 – 8:00 pm
WAR "The Ghost Front" #106 – (December 1944-March 1945)
8:00 – 10:30 pm
WAR "A World Without War" #107 – (March 1945-December 1945)