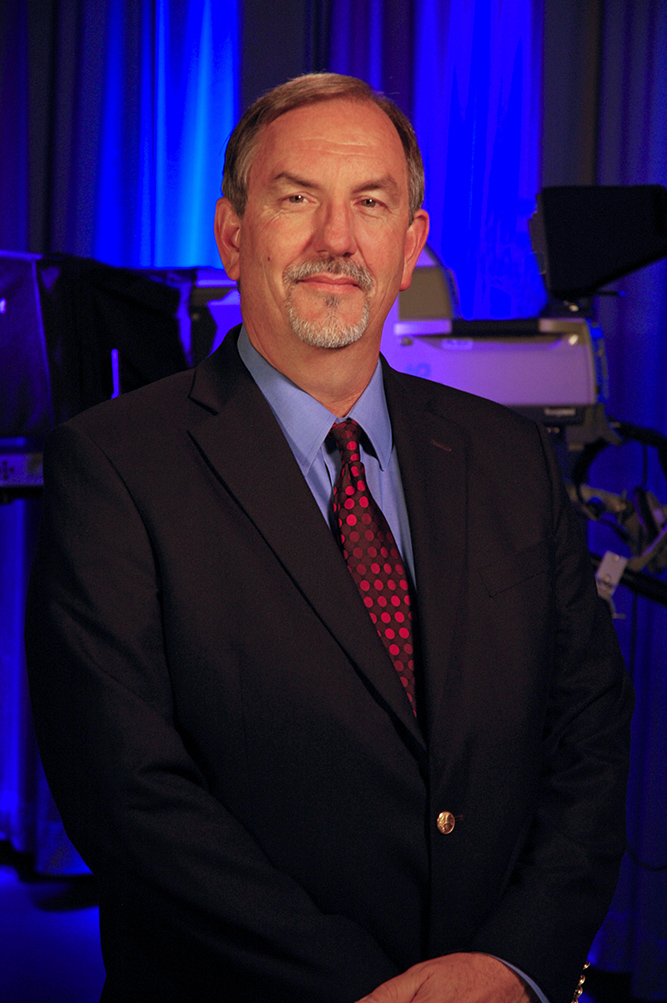 1. Franz, what is your proudest moment in your first year as GM for NM PBS?
I am most proud of the reception I've received from the staff at New Mexico PBS. It's always a challenge taking on a new position, but when you are an internal candidate you come with a lot of baggage. Long standing relationships must change and everybody looks at you just a little bit differently. But the staff has been incredibly supportive and patient, never failing to help me figure out something new, calling me out on dumb moves and helping to guide me into smarter positions. I could not do it without my friends at New Mexico PBS and certainly would not have enjoyed it without their patient support.
2. What are you excited about in your second year? What's coming up for New Mexico PBS?
We are entering into a new era in broadcasting. The FCC is going to make changes in how broadcasters operate and New Mexico PBS is well positioned to help form and guide the public television corner of the industry.
Building on past successes with New Mexico in Focus, Colores!, Public Square and Connect we've successfully secured funding for two more years of Public Square, look forward to holding NMiF special debates with candidates for Governor, Congress and the US Senate and are working on a multiyear funding commitment for Colores!. And I am convinced that we will secure funding for a new season of Connect.
Our pledge drives continue to outperform the system and as the overall economy slowly improves we see what looks to be a long awaited turnaround in underwriting revenues.
From the outside it may seem boring, but I am truly excited by the strength and stability that we show across all areas from financial to content to infrastructure.
3. Did you meet any inspiring people this last year?
I meet a lot of inspiring people, but just this week I met with the tribal council of the Santa Clara pueblo. The Cerro Grande and Los Conchas wildfires have destroyed the Santa Clara watershed. The pueblo is at grave risk of being wiped out by flooding from normal monsoon activity. More than 1200 years of history may end with an afternoon of normal monsoon rains. But this group is not giving up. They have an aggressive plan to rebuild the watershed, keep the village and the tribe intact and reestablish the native habitat that is all but gone. They have been incredibly effective at partnering with the federal and state governments and are now reaching out the non-profit community to ask advice on the best way to move their plan forward.
The tribal governor was very eloquent in telling us how embarrassed he was to ask for help. For generations the tribe saw themselves as givers, not takers, but for the good of the tribe and the good of the larger community they had to get over their pride and reach out and ask for help. In doing so they learned that to ask for help was not to take, but to open themselves up to the larger community and invite them in to share in the life of the tribe. The Sheriff was equally eloquent in describing the personal transformation he went through as he worked in the canyon every day. He started by asking himself what he and the tribe had done wrong to deserve the wrath of the Great Spirit. But to survive and move forward he's come to realize that maybe they are there to find a way through this so that other communities suffering similar losses can learn from them and also survive and learn to thrive.
This group has accepted that change was forced upon them. They are learning to accept it, adapt to it and figure out a way to live in a world that has irrevocably changed while holding on to their identity.
4. What programs moved you this last year?
The NMiF episode that featured Eric Griego discussing the murders of his brother and his family by his nephew Nehemiah Griego. OK, maybe that was a bit more than a year ago, but it still resonates.
Last years American Graduate Day that featured two of the students followed in the documentary Our Time is Now. And every time Our Time is Now repeats I watch it. Those kids are amazing.
The Address, quite a departure for Ken Burns and beautifully done. It made me re-memorize the Gettysburg Address and reminded me why it is such beautiful prose.
After Tiller, a hard hitting but incredibly insightful look late term abortion. We shouldn't shy away from topics that make us uncomfortable. We will broadcast it the first week in September.
5. What goals do you have for your next five years at NM PBS?
Ouch! Ask me in 4 years! OK, I'd love to revamp and expand this building to bring in our folks in the 1200 building and possibly provide space for KUNM, MTS, academic departments like IFDM and C&J. That's a really tall order and probably more than five years worth of work, but maybe we can get it underway. I want to resume regular increases in funding from the state legislature and grow endowments. I want to keep this station healthy and move it to an even more stable and diversified funding profile. None of this is magic; it's just hard work. Otherwise, just the day to day improving relations with our partner stations KENW and KRWG; making sure our licensee's value us, are proud of us and most of all understand us; and most importantly keeping the faith with our viewers and members.