Moderated by PBS NEWSHOUR Senior Correspondent Ray Suarez
Airing: Ch. 5.1 – Friday, April 27 at 7 p.m. & Sunday, April 29 at 7 a.m.
Repeats: Ch. 9.1 – Saturday, April 28 at 5 p.m.
Click Here to Join the Conversation
Every year 1 million kids drop out of high school nationwide. In New Mexico, the graduation rate is 67.3 percent.
New Mexico PBS launched a series of broadcast, online and community activities in support of "American Graduate: Let's Make It Happen," a national public media initiative supported by the Corporation for Public Broadcasting (CPB) to help Albuquerque and other communities across America to address the high school dropout crisis.
As part of Albuquerque's American Graduate: Let's Make it Happen initiative, New Mexico PBS hosted a Teacher Town Hall on Wednesday, April 18, at The University of New Mexico Continuing Education Auditorium in Albuquerque to advance the conversation around this dropout crisis, its impact on children, communities, and ways to address it. Ray Suarez, Senior Correspondent for the PBS NewsHour moderated the Teacher Town Hall, which was open to New Mexico teachers to provide a forum to address their concerns and to attempt to develop solutions.
Over 100 Teachers from all across New Mexico, including Farmington, Cuba, Albuquerque, Santa Fe, and more participated in the Teacher's Town Hall. At the conclusion of the event, Ray Suarez summed up major points raised by the teachers: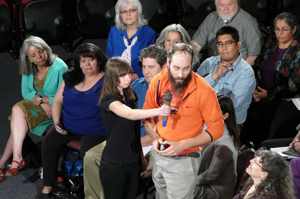 • Classes must be smaller.
• Community involvement is essential to engagement.
• More after school programs are needed.
• We must educate parents as well as students.
• Reading is the key to student success in schools.
• Classes must be relevant to real world.
• Social promotion is key to student success.
• Remedial programs are essential.
• Longer days, longer school year would aid student engagement
On Thursday, April 19, Ray Suarez led a discussion with a panel of Educational Policy makers, which was taped at the New Mexico PBS studios. Guests participating in this discussion included:
• Rep. Rick Miera, Chair, Legislative Education Study Committee
• Matt Montano, Director of Educator Quality, New Mexico Public Education Department
• Linda Sink, Chief Academic Officer, APS
The panel agreed to hear the ideas voiced by teachers to help drive change and prevent dropouts. Policy makers explored several areas of teacher concern that were expressed during the town hall, including the challenges of making classes smaller and tying teacher evaluations to student achievement, while still giving educators the flexibility to engage kids with different teaching styles.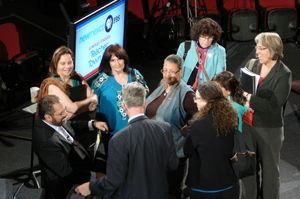 New Mexico PBS is one of more than 60 public media and television stations around the country that are working directly with their communities to address the dropout crisis. As part of the ongoing American Graduate: Let's Make it Happen initiative, NEW MEXICO PBS has already created segments and programs highlighting drop-out information, heroin and opiate use, teen pregnancy, and initiatives that are working in New Mexico, on PUBLIC SQUARE and NEW MEXICO IN FOCUS.

About American Graduate
The public media initiative, American Graduate: Let's Make It Happen, is helping communities across America identify and implement solutions to address the high school dropout crisis. Made possible by the Corporation for Public Broadcasting (CPB), the multi-year campaign is designed to raise awareness and dialogue through national and local multiplatform programming. Targeting communities with highest dropout rates, the initiative also increases local engagement and action through collaborations and partnerships, and increases student engagement through teacher professional development and classroom curricula. Public radio and television stations – locally owned and operated – reach 99% of the country over the air, have built models for successful intervention in early learning, and have deep connections in the communities they serve. More than 600 partnerships have been formed locally through American Graduate and CPB is partnering with America's Promise Alliance and the Bill and Melinda Gates Foundation. Visit American Graduate on Facebook, Twitter or AmericanGraduate.org.
About CPB
The Corporation for Public Broadcasting (CPB), a private, nonprofit corporation created by Congress in 1967, is the steward of the federal government's investment in public broadcasting. It helps support the operations of more than 1,300 locally-owned and -operated public television and radio stations nationwide, and is the largest single source of funding for research, technology, and program development for public radio, television and related online services.